Dear Patti,

One of the extremely foolish things that I have done in my life, I can remember was driving while very tired. As a result I fell asleep, driving. It was absolutely frightening.

Thank God, but the fellow next to me started calling out, "Daniel, Daniel". I opened my eyes, always a good thing to do when driving, and I saw that I was headed towards oncoming traffic. I veered the car back in my lane. I pulled over and let someone else drive. I was lucky to be alive, a thought shared at the time by the other fellows in the car.

Our spiritual life is like driving a car. We can be going about our business, attempting to live our faith, but taking things for granted. Warning signs are often ignored. These signs might be slacking off from church attendance, letting some things into our homes or lives that are questionable, inappropriate or even unchristian. May be we are exercising less control over our tempers. Or perhaps, we are not making as much time for prayer as we need. Suddenly, we fall asleep. Temptation is there, but we don't have enough spiritual energy to resist. If we are blessed, we wake up in time to realize that we are destroying the spiritual life of our baptism. But it could happen that we don't wake up and sleep forever in our sins, spiritually dead.

"Stay awake" is the theme for this First Sunday of Advent. The Master of the house is the Lord. His coming is at the end of our lives to determine our capacity to receive an infinite share of His love. If He come and finds us ready and waiting, the door of our life open to His Presence, then we have nothing to worry about. If He comes and finds us spiritually asleep with the doors of our lives firmly closed to Him, then we face an eternity of coldness and hatred, an eternity without love. That is what hell is.

Each of us has a unique set of warning signals telling us we are liable to doze off, or fall into temptation. It may be when people say certain things to us. It may be when we are in certain situations. And so, we watch. We watch for the signs of the spiritual in our lives. We watch for the presence of Christ. Without the spiritual, our lives would be self-destructive. Without the spiritual we wander like the people of the first reading from Isaiah. Without the spiritual we also become materialistic, selfish, and arrogant. Without the spiritual we lose the capacity to love. We rush to satiate our needs, but remain empty because only God can complete our being, only God can fill our emptiness. Without Christ we also become self-destructive.

Advent is the season of hope. The promise of the prophets will be fulfilled. The Messiah will come to return the world to God's original plan. Our thirst for the Messiah will be quenched not just on December 25th, but every day of our lives. We wait. We watch. We stay awake.

Fr Daniel
United States
Dear Patti,

Hope all is well on that side of the planet.

Am doing well and after the Italian course is now doing another course on ecumenism.
I hope you received the emailed report from our members in the Congo. I was impressed by the report and the attached photos.

I will soon send you the lists of new members they put in my parcel from Butembo.
Let's continue praying for one another, especially peace in the eastern Congo, which we need more than ever. My own parents, brothers and sisters, are now displaced in the bush, fearing the rebels.

Regards to our members.

Peace and all good.
Deogratias
Rome
Hi Patti,

Happy to tell you that when I join the Universal living Rosary last year through Br. Paul, it has been wonderful. I have enrolled seven hundred members. Some pray and have miracles the same day.

Oh Patti it is wonderful.

God bless you.

Will tell you much next time.

Geraldine from Cameroon
Dear and Loving Sr. Patti,

All routes leading to Conference Venue-Vailankanni Cut off due to heavy rain, floods and cyclonic weather and storm.

I informed all, except 4 people from Andaman-Nicobar Islands, two Sisters from upper India who are traveling in Train. They left at 12.30 p.m. today (Wednesday here). They reach Chennai early Morning.

I have to go and pick them up and lodge them in Sisters' Hostel. They return to their convents only on Dec.1st after attending Conference.

Since the Conference postponed they will stay in Chennai. Same way Andaman Islands members in ship now will be nearing Chennai harbor and we do not know when they Reach Chennai. Till this evening no news of their arrival. This is due to heavy storm.

I will be sending some banners, November-December Newsletter and Performance report, lists and few T-Shirts and a C.D.

In the C.D. You will find our newsletter November-December, 2008 stored, converting all texts to .PDF file format.

With love and prayers,

Kjroche
India
Dearest Mother Patti,

I am always in great joy receiving d heavenly gifts you sent which uplifts my spirit all the more. Those precious gifts handed to the members gave them the sense of renewal living a genuine catholic.

I was at the seminary yesterday bringing with me the altar vessels. Luckily, the Spiritual Director, Fr. Ben was there and I handed over the precious vessels. And Fr. Ben extends his heartfelt thanks to you dearest mother and the entire United Living Rosary Association of Saint Philomena (ULRA) family. He also asked for the email and the website of ULRA. I will try to send the photos next week. The pre-college seminarians are joining also. I will send the list next week. I am requesting from you mother to send me sacramentals, altar vessels and books of modern saints to be given to seminarians and catechist.

Can I ask for a financial support from you mother for me to bring those precious gifts to the far flung areas of the city? Thank you very much dearest mother. My prayers are with you and your family and the staff always.

Ad Jesum per Mariam,
Philippines
Dear Mrs. Patti,

What kind of the machine for making the scapulars? How does it work and what is the technology? Please if you teach us and help us to understand the way of making the scapulars I am ready to launch the production for you.

Also probably you will need other things produce for Universal Living Rosary Association of St. Philomena here in Ukraine and we will try to help you. You know that I am ready to move the mountains if you would order me to do this. This month we enrolled almost 1,000 people.

Father Ivan Kolodiy
Ukraine
Sr. Rosa and promoters in the Philippines

Dear Patti,

Thank you for the small box you sent me. In it were old magazines, old newspapers (they were not old to us) There were some rosaries too thank you.

A sad story here.....a married woman turned against the Catholic Church and joined P.A.G. church (PAG is Pentecostal Assemblies of God church) she was duped into burning her sacramentals and also those of her husband. The husband and other Catholics tried in vain to persuade her at least to return them to the church...and something, in a dream came to her daughter who was in boarding school away. The girl in the morning went back home but first approached the parish priest. She told him her dream....mama has joined another religion and intends to burn the rosaries etc. The priest put the girl in his car and together drove to the mother. Pleaded with her but to no avail. Priest and daughter departed..........The woman now with all her new friends proceeded to collect all the sacramentals and set them ablaze.......no sooner had the first Rosary caught fire than the woman dropped dead.......

She is not the first....some years back a P.A.G. couple told the congregation to collect all those devilish things...meaning rosaries. They burnt them and departed in their car.......They never reached home alive....the car overturned......will they ever learn??????

My love and prayers for a good Advent.....Yours ever....

Lawrence Esiangu,
Living Rosary Centre
Kumi
East Africa
Dear Patti,

Fr. Lolan Tabotabo, is so thankful upon knowing that these vestments, sacramentals and other altar things are there already (see photos below). He is so eager and sees me right away. So we see Monsignor Jose Wilson Mendoza, our Parish Rector endorsing these things and turning over to Fr. Lolan Tabotabo.

He is so happy for he has already these altar things which he can use during his celebration of the Holy Mass.

If ever a tabernacle arrives it will also be forwarded for him. He is so happy then for he almost lack in everything.

Carmelita G. Baric
San Carlos City
Negros Occidental
Philippines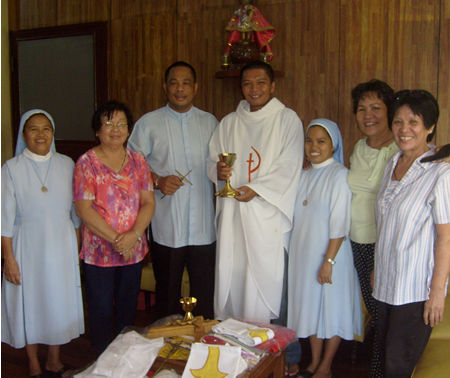 Dearest mother Patti

I thank you thousands of times, I collected today four(4) new boxes of the post, they are wonderful, nice box, thank you so much for the black suit ,it is very nice, I will wear it , a wonderful boxes of scapulars and others. I am very happy to collect these boxes today, I thank Jesus of Prague, today is 25 of the month, I thank you so much, I keep you in my poor prayers, with your dearest mom, team, staff, benefactors, your people, I send you my all love.

Ave Maria.

Your Little Son, Slave of the Immaculata
John Kayrouz
Lebanon
MÉxico
Dear Sisters in Christ,

It is my pleasure to address you with the purpose of thanking you for all the support that you have given me during all this time that I have been working enrolling hundreds of persons in the Living Rosary of St. Philomena.

Up to now, November 29, 2008, I have enrolled 689.

Since 2006 to date, which I have expressed to Patti Melvin, it has been for me a very important accomplishment and a challenge, for when I began I told myself that I would reach 100 which was my goal, and I have surpassed such goal by achieving that all these persons be praying their decades.

I want to share all this with you because I am sending you some photos of the Virgin St. Philomena which a priest, who just initiated with me a movement for this young Saint, has gotten made. He has in his church a gorgeous natural size statue which was made for him by a person in Guadalajara; nobody in this City has it, only this chapel. Each month we will have a Mass in her honor; it will be the 10th of each month at 10:00 a.m. He has asked me to please ask you for the following:

• Holy oil of St. Philomena to anoint sick persons who will attend this mass
• A holy relic of this saint which he would place next to St. Philomena's statue
• Also the special prayer to bless the water if you can provide it (i don't know what she means, Patti)
• Medals of st. Philomena. Michael which you have sent me sporadically
• Brown scapulars
• St. Philomena cords

How much would all of this cost this chapel? Because Father Antonio tells me that they will be needed to extend the veneration of this Saint and Martyr.

I mentioned to Patti that I would write a letter in Spanish, so that you (plural) could please translate it for her and also show her the photos.

I would like very much to have your comments about it and see what can be done for this movement; the chapel lacks the means, it is in a zone of humble people, but very devoted.

The name of the Chapel is San Martin Caballero, and the Parish Priest is Padre (P.) Antonio Ascencio Ramirez.

We are enormously grateful for your support and await your reply.We send you a cordial greeting and we are at your disposal.

Sra. Araceli Lopez Carrillo
Municipio de Guadalupe
Nuevo León
MÉxico
Gracious and wonderful mum Patti! Viva bravo bravo!!!!!

I got surprise gifts of Christmas!!

A big box just arrived with precious and wonderful gifts more than anything in this world!

First was the infant Jesus statue bravo!!! Crucifix, many chasubles, children shoes and cloths, communion and veils coverings, candles, station of the cross etc etc be blessed mum! I am on the way to a village! We shall talk more on these gifts tomorrow!

We shall see how we shall use them to help many souls!

Long live Patti! Long live Universal Living Rosary Association of Saint Philomena!

Bravo!

Ave Maria

Fr. Patrick Mary Filomena
Dear Patti,

I have just heard from Sister Marion (spelling may be wrong) who is an African nun studying in Scranton, PA. She has called me to say that she received her dedicated decade and began saying it just recently. I was so happy to hear from her. Also, Sr. Ifigenia, an African nun studying closer to my home here in Hamburg, NY has recently told us of a trip she will take to spend some time back home in Tanzania. She is also saying her dedicated decade. When she returns to this country she will continue to study to obtain her degree at D'Youville College in Buffalo, NY. Several of these nuns have become close friends and I want to help them in any way I am able. They love the rosaries and scapulars, pictures and holy cards. They will distribute them as they are able. St. Philomena is working with Blessed Pauline to spread the roses across the world. What a sweet fragrance our Blessed Immaculata must experience from their pure prayers.

I have a request to make for a third nun with whom I have worked. She is back working in Africa and I would like to send her a package of materials such as the one you sent to me a couple of months ago. Would I be able to designate a package of materials to go directly to this Sister whose name is Sister Terezina Magoti? I have her e-mail address and will ask her for a shipping address if you think it possible. She has nothing to give to her students in the way of materials and literature, but would be able to distribute the rosaries and scapulars to the girls she teaches. Her mission is to educate more girls in the areas of Tanzania that have access to trained teachers (nuns) and facilities that they are building. Terezina is a Sister of the Immaculate Heart of Africa.

Thanks for your attention....I will send the donation as soon as I am able to do so.

Your friend,

Pat Allan
New York
United States
Dear Madam Patti,

Thanks for your communication, we pray for Emma, he is always at awkward situations but He is building the heaven for you all, whatever you help Him to reach the disadvantaged is a credit to you the benefactors! We thank you that He will be with us through the Christmas season, I wish He spends his feast day with us at Yei diocese.
Things are really grave here as you say.

I share with you, a miracle came by. We have a problem of escalating human sacrifices, children are sacrificed by many business men that are now flowing in search of opportunities. Two girls were kidnapped by witchdoctors, when they were taken to the shrine, the one who had a Miraculous Medal around her waist was released and the friend sacrificed, so pray for us, brutality is widespread. One sub parish is crying for the image of the Immaculate Heart, we pray that you give some to Emma to bring to us.

John
Sudan
Dear Sisters in Christ,

It is my pleasure to address you with the purpose of thanking you for all the support that you have given me during all this time that I have been working enrolling hundreds of persons in the Living Rosary of St. Philomena.

Up to now, November 29, 2008, I have enrolled 689.

Since 2006 to date, which I have expressed to Patti Melvin, it has been for me a very important accomplishment and a challenge, for when I began I told myself that I would reach 100 which was my goal, and I have surpassed such goal by achieving that all these persons be praying their decades.

I want to share all this with you because I am sending you some photos of the Virgin St. Philomena which a priest, who just initiated with me a movement for this young Saint, has gotten made. He has in his church a gorgeous natural size statue which was made for him by a person in Guadalajara; nobody in this City has it, only this chapel. Each month we will have a Mass in her honor; it will be the 10th of each month at 10:00 a.m. He has asked me to please ask you for the following:

• Holy oil of St. Philomena to anoint sick persons who will attend this mass
• A holy relic of this saint which he would place next to St. Philomena's statue
• Also the special prayer to bless the water if you can provide it (i don't know what she means, Patti)
• Medals of st. Philomena. Michael which you have sent me sporadically
• Brown scapulars
• St. Philomena cords

How much would all of this cost this chapel? Because Father Antonio tells me that they will be needed to extend the veneration of this Saint and Martyr.

I mentioned to Patti that I would write a letter in Spanish, so that you (plural) could please translate it for her and also show her the photos.

I would like very much to have your comments about it and see what can be done for this movement; the chapel lacks the means, it is in a zone of humble people, but very devoted.

The name of the Chapel is San Martin Caballero, and the Parish Priest is Padre (P.) Antonio Ascencio Ramirez.

We are enormously grateful for your support and await your reply.We send you a cordial greeting and we are at your disposal.

Sra. Araceli Lopez Carrillo
Municipio de Guadalupe
Nuevo León
MÉxico
Good day Madam Patti,

we knows that the hurricane went without you get problem at centre, we thanks you for all, now here the refuges from Darfur says that they happy to hear that you send Emma during Christmas as you told us, where is he starting with, we prays that he comes to Raja 179kms west of Wau town to see us, we will be happy to have him on the feast of his on Christmas. Is it possibility, thank you love us, has he come back from Congo, we told that he was in Congo where life dangerous.

A. Justin
Darfur
Thank you dearest Patti for the envelopes dated November14th.

Congratulations for the new cards. How wonderful !!!!

Also the new booklets...Absolutely wonderful. Can you please send some more?

God reward you abundantly.

Fr. Ernil asks if is possible a crucifix for sick people. Fr. Ioan Cosma needs some priest clothes and a table clothe.

The Ukrainian priests are suggested to stay far from St. Philomena and America!

Fr. Lucian asks about the ciboriu.

Fr. Miclea Florin needs a black priest shirt if is possible. Also some medicine for hepatitis.

Fr. Pop Traian needs some white priest clothes under ornates.

Many ask Our Lady, St. Philomena, the Guardian Angel and any other holy images. Metal

Rosary are requested by some of believers if is possible and all you can send specially for Christmas.

Somebody asked a color Atlas. Children are looking for a Christmas manger. Many of them will have not a Christmas tree because the price of food is higher and higher.

Two white dresses for the first communion are express requested at the Visuia Parish.

We invoke St. Philomena to come and help us to do a nice Christmas in honor of Jesus.

We will continue our work as we can and how long we can.

May God's continual blessing fall upon you.

Ave Maria!

Monica
Romania
Dearest mother Patti

I sent to you some photos (18), I prepare another. The priest who bless with the Holy Eucharist, is our father who enroll the most in the confraternity of the Scapular Brown, he is the superior of the Marial movement of priests in Lebanon, so he distribute many scapulars to others priests in other places, we come every week to the church of Saint Joseph in the city of Jounieh, to pray the complete Rosary (4 mysteries), with the mass ,the adoration, we pray every week together ,the consecration to the Immaculate Heart of Mary. I keep you in my poor prayers; I send you my love and gratitude. Ave Maria.

Your Little Son, Slave of the Immaculata
John Kayrouz
Lebanon
Thanks mum! I am with Br. Chrispinus Masika at Bungoma!

It was a wonderful journey!

I arrived in the morning by 4:00 a.m. and it was dark and bad with criminals around! I did not see Br. Chrispinus, waited for more than one hour, I decided to go back but I prayed to Santa Filomena for courage and I feared may be all was a fake but she gave me courage and a Samaritan who took me to the cathedral church for mass and then I after the mass I met Br. Chrispinus!

He is a young man of 27 years with faith and wisdom! He is like Paul of Cameroon; he is ready to work without fear! He is in the midst of proud and arrogant priests who refused to support him but he is like me not afraid to do good! He welcomed me, took me to sisters and fathers and then to youth centers!

I examined his register and he is well organized, he get 15 people in the Universal Living Rosary Association of Saint Philomena, and, after teaching them, he registered them and sent their names to you! I taught him about the used of dates and numbers etc!

He is covering about three parishes, so he may needs some allowances, may be 50 dollars or 100 dollars for a start! He is working hard on his farm! And he is a catechist and hoping to become a simple brother! And he loves the poor and studied sign languages and loves deaf and dump and speaks with them! His way of enrolling is systematic but good! We shall work together, he is a promising leaders!

Now we are going to see some Universal Living Rosary Association members!

Viva Patti

Ave Maria

Fr. Patrick Mary Filomena
Dear Patti,

Receive my greetings through our Lord Jesus. I hope and believe that you are fine and healthy.

I write to let you know that Fr. Patrick Filomena has arrived safely. I have already felt free of what I was worried about. He has shown me how to write the dates on the lists and the cards. There is a lot to learn for the time he is going to be with me. I request that you send me the numbers for I did not see them in the small parcel that I received.

Please, pray for the ministry here in Kenya and pray that by spreading the devotion to the Universal Living Rosary Association of St. Philomena (ULRA) many priests may change there way of life and relationship to the people of God.

Fr. is going to share with you a lot of what he has seen here in Bungoma.

God bless the work that you and all the Philomena Members are doing for his glory.

Long life.

Yours,
Br. Chrispinus Masika
Bungoma - Kenya
Greetings of peace to you all.

This Fr. Tom Kottackal and I happened to see your "The Universal Living Rosary Association" quarterly at the Bishop's House, Raiganj,West Bengal India. I liked it, and found it to be very helpful. So I thought of asking you whether you could send me a copy of it.

I work in Jharkhand, in the Dumka Diocese, a tribal concentrated area. If you can find some sponsors could you send me some Rosaries and a book on How Rosary came into the present form, I would be very grateful to you if you could help me. Be assured of my loving prayer for all your intentions.

Thanking you and with best regards,
Fr. Tom Kottackal,s. j.
Jharkhand,
India
Dear Patti,

I want to tell you that I received a box of rosaries and prayer books last November 13, 2008. We just started our new Universal Living Rosary Association of Saint Philomena in Barangay Argao, Mogpog, Marinduque her in the Philippines. The people especially the children are very glad that they have their own rosaries to be used in their prayers. Next time I will send you pictures the day I received the box.

Another thing that I want to tell you is that last week, there was one student in our Barangay who was possessed by a bad spirit with a different voice and he has a very frightening face and eyes. The people in our Barangay help this student by praying to St. Philomena. My cousin put the picture of St. Philomena under his head and began to pray and all of a sudden the boy back to normal. This is not the first time it happened. So our parish priest Fr. Sherwin blessed all the classroom of the school and told the students to pray fervently so that bad spirit will not come back.

In time of the arrival of the rosaries you sent us, I gave it to my cousin who is also a teacher like me and distributed to the students together with the picture of St. Philomena. Before they start their class they have their Rosary first. The students are very grateful for the religious articles you sent us. Thank you very much to Universal Living Rosary and May the Good Lord with the help of St. Philomena bless you always with good health. We include you in our prayers.

Sincerely in Christ,

Lally G. Zapata
Philippines
Dear Director Patti,

With grateful heart I thank you for the rosaries, precious books and for everything inside the Forex box...And, finally, I saw your picture with your husband. Your face speaks so much of your kindness. I thank God for that.

I immediately opened the box with so much joy just when I arrived from a long trip, a vocation campaign...A million thanks to the Universal Living Rosary Association of St. Philomena (ULRA), and to the LORD!

I distributed everything from your first package (scapulars, medals, rosaries, St. Philomena oils and leaflets) in every place I stayed particularly in the islands of Visayas and Mindanao. ULRA's religious articles reach in the different parts of the Philippines. I'm very happy for this. St Philomena has really touched everyone's heart. An active police and church worker, Jelson Bangoy, from Surigao was greatly inspired when he and his whole family received the scapular. He became so much interested about the Universal Living Rosary Association that he immediately wrote you on the next day. Your reply inspired him also to promote ULRA and St. Philomena to everyone in San Nicolas Cathedral. He immediately informed me when he received the box from ULRA...They distributed everything already...His whole family work for it.

I already have a lot of forms to mail, it means a lot of groups has been formed, thanks be to God...He really uses instruments in calling people to pray...My co sisters, and friends are also inspired to spread the apostolate of the ULRA everywhere. We already have groups in the jail, from among the domestic helpers, from the youth, parents and from the different walks of life.

I hope I will find a time to make photo copies of the forms and send to you soon when I finish my other works.

Thank you so much and best regards,

Sr. Maria Corazon A. Lendio
Philippines
Bravo mum! God bless you! Now I have great ideas about how to go about your promises! St. Philomena will help us!

As you know I was made the Superior of Claretians Missionaries in Nairobi, and I am in charge, now we have a big land at Langata opposite Tangaza college, near Catholic University, and it has two or three rooms for the priests who are going to stay with me, it is walled round a big compound, a lot of spaces, I am thinking we use part of the land on temporary bases, we use wooden planks to put a library, chapel and office since I am going to live there as a new Superior more than five years, and it is in town, and easy accessible to all...that is my idea now

Or unless if you have big money we look for our own land and build but that will take money!

If you like it may costs about two or three thousand dollars, with electricity, tables, seats etc and a good moderate car will be about five or six thousand dollars or less!

Anyway we put all in prayers and ask St. Philomena to direct us!

Viva Patti! I am encouraged by your support and motherly care for me! I want to make this devotion a reality in Africa!

People are coming to see the need! I want to focus on it since i am almost through with my studies!

Let me hear from you and then see the next step to go!

Ave Maria

Fr Patrick Mary Filomena
Nairobi
I am a devotee of St. Philomena and I want to share my testimony with you all.

I am from Nigeria and a graduate; I prayed to St. Philomena to help me beg God for exam success and she did because I made a wonderful Degree result. I had faith because our Blessed Virgin Mother promised that St. Philomena, nothing is refused. So I am particularly grateful to God, Jesus Christ, The Blessed Virgin Mary and St. Philomena.

Help me thank her and join me to beg her to grant me another favor I am asking.

Amen
Nigeria
Dear Patti,

I had read all your messages in the e-mail and I am very grateful to you and I am very much thankful for a box for Rev. Fr. Lolan Tabo-tabo and for myself.

I really rest assured that Fr. Lolan Tabo-tabo will be very happy about it. You know, there are other two new parish priests who have observed what Fr. Lolan Tabo-tabo doing in his parish; they were very inquisitive and very curious about Fr. Lolan where he got the beads of rosaries.

Then they went to Sis Carmen Mortel told them all about it and I gave some of the reading materials such as newsprints, dedicated decade in the three issues and told them that they have to enroll the names of their parishioners to join the Living Rosary and the devotion of St. Philomena.

Patti, Cadiz City is about one hundred kilometers away from our place; and that is yet a part in our diocese. These priests are assigned in the interior part of our diocese.

How I wish and pray these devotions will reach out to the remote part in our place or in our country because these people are easily swayed by the bad elements in our country. I hope and pray again this priest would be the one to guide them into our faith. God Bless Us All!!

Carmelita G. Baric
San Carlos City
Negros Occidental
Philippines
Dear Patti,

I have just got information that the boxes for Sudan have arrived; I have finished my Holy Hour at Christ the King. I'm going to continue with putting together my report. Pray for me that the computer from which I work continues to help me so that I can finish this by Wednesday so I can send it to you then.

Tomorrow morning I will tell you what is missing; I am still tied up by this report but will check.

I love you all.

Emmanuel
Uganda
Patti,

My brother Norman who found out his tumor in his salivary gland was cancerous. They didn't give him much hope because this is a very low moving cancer and very rare. Only 300,000 people world-wide get it so there is much research done because of the low numbers.

I had written to you asking for St Philomena's oil and you sent me a large bottle which I had forwarded to my brother. His wife has used it every time he went in for chemo. Some of the surgeons didn't give him much hope, but he has a woman oncologist who has been wonderful. She started treating the cancer aggressively and told him they were going to beat it. That was the first hope he had in many months. They won't cure it but at least he has a quality of life right now even though he gets sick from the treatment sometimes.

The tumor has shrunk. He doesn't have to wear a bandage any longer and started radiation treatments last week for 6 weeks. He has people praying for him all across the nation, but I thank you and St Philomena's intercession for giving my brother more time to be with his family.

I have a friend who also belongs to the Universal Rosary. Her son, who is 48 years old, fell of his second story roof trying to repair damage from hurricane Ike. He fell on concrete on the side of his head. For weeks they would not tell his Mom if he would live or die. I had kept the small bottle of St Philomena's oil so I sent it to her to apply to all the injured areas like you advised with my brother. To make the sign of the cross and say a prayer for healing. He is now walking, knows his Mom, doesn't remember the fall, thank God, and they said his therapy is way ahead of anything they would have expected with his injury. She said when things settle down she will also write to you and thanks God and St Philomena intercession for her son also.

God Bless
Carol
United States
Dear Mrs. Melvin,

I was out of city for the last 8 days. I went to Lahore on 7th morning. From there I traveled to Sukkur on the same day. Next day when I reached there I went to Khairpur. From Khairpur (Sindh) I went to Karachi on 9th in the evening reaching next morning. I was very very busy there till 13th. I started my journey back on 13th and reached back last day.

I have received on lift. I hope to receive the other lift today or on Monday.

Have you got the packet of pictures?

I have sent the two books to be put on the ULRA website and those have been successfully done. Now I will try to send the Newsletters from the beginning as soon as possible.

Please pray for my father. I am going to take him to hospital. He is having some prostatic problem and might need surgery.

OK, Good Bye and God Bless You,

Yours in Christ and Holy Mother,

Afzaal Anwar Khokhar
Pakistan
Dear Mrs. Melvin,

I was out of city for the last 8 days. I went to Lahore on 7th morning. From there I traveled to Sukkur on the same day. Next day when I reached there I went to Khairpur. From Khairpur (Sindh) I went to Karachi on 9th in the evening reaching next morning. I was very very busy there till 13th. I started my journey back on 13th and reached back last day.

I have received on lift. I hope to receive the other lift today or on Monday.

Have you got the packet of pictures?

I have sent the two books to be put on the ULRA website and those have been successfully done. Now I will try to send the Newsletters from the beginning as soon as possible.

Please pray for my father. I am going to take him to hospital. He is having some prostatic problem and might need surgery.

OK, Good Bye and God Bless You,

Yours in Christ and Holy Mother,

Afzaal Anwar Khokhar
Pakistan
Dear Mama Patti,

Have got today time write again, miracle we still live, fighting gone on everyday. we so thank you mama for all send us, thank Emma who is ready die with us we told today that he helped send more medals to other part were we fighting. I tell you many we die for nothing because of Rwanda giving support to Laurent Nkunda; we fear genocide to bring to us in Congo.

Now we have Angola troops came to help Congo government but fighting so much, today you heard that forces of Congo managed to repulse the rebels from the outskirts of
Goma and we have some way, we fear much genocide talked of, we need you help us be our prayer. We phone Emma and he back Kampala!

Joseph
Goma
Congo
Dear Patti and Co,

A Million Thanks for the parcels that you send to Hong Kong and Macau. Both packets arrived safely and the Rosaries, medals, leaflets etc. surprised us. Well slowly we will take them to different parts of the promised land of China. As you had requested I offered one Holy Mass for the Family of Kathleen Campbell & Co. I do remember you all in my humble prayers.

Well now since I stay in Hong Kong when you send Rosaries and other materials to MACAU you may send it in the name of FR. ALBERTO ROSSA. Because according to the postal rule the person should directly collect the material from the post office. Since Fr. Rossa is our superior he is always there and it will be easy to collect it. His address is as follows:

Fr. Alberto Rossa
Claretian Publications
Macau
China

There are a lot of changes taking place in the promised land of china. Please do continue to pray for us and the church in china. Once again a million thanks for everything. Convey our regards and prayers to all the members of Living Rosary Association.

All the best. Take care. May God Bless you.

Fr. Jojo Ancheril CMF
Christ The Worker Parish
Kowloon
Hong Kong
China
Dear Patti,

Thank you for the recent packet of material and for sharing with me the life story of Venerable Pauline-Marie Jaricot. Her devotion to the Eucharist and to Our Lady is a great example of love and prayerful thanksgiving. It is my hope that, through such devotion, the hearts of many will more deeply know and serve Our Lord.

Sincerely in Christ,
Daniel Cardinal DiNardo
Archdiocese of Galveston-Houston
1700 San Jacinto
Houston, Texas 77002
Dear Patti,

May the peace of our Jesus Christ be with you all!

Many thanks for so many of the spiritual gifts you sent to us. I presented a set of 14 Station of the Cross to our Parish Priest after the Mass for the Crowning of Our Blessed Mother Mary on 31st October for our new church building. Our Parish Priest Fr. Paul said to thank you very much for the gifts and said very kind of ULRA to give theses kind of gifts to the Parish.

One of our promoter here is having problem with receiving the devotional items from your end so he is asking me to forward an alternate postal address. The owner of the postal box not handing over to him the sacramental items.

Thank you! May God bless you all!

Sabina Fuluvii
Boroko
Papua New Guinea
Dear Mother Patti,

May I inform you that today I received a box through UPS.

Its contents include;

-19 posters
-Oil,
-Rosaries and enrollment cards (French)
-Register and enrollment numbers and leaflets.

Also, the PADDED ENVOLPE arrived today.

Thank you very much Mom.

However, I sent 2 boxes of English items to South West of Cameroon respectively.

Again, towards this weekend I shall be sending more 2 boxes to our 2 promoters in Bamenda. One is working in the prison in Bamenda Provincial Prison. I told her to forward her lists to the missionary center to enable me see if the work is done properly.

Thank you immensely for your September letter. It was encouraging and full of inspiring message.

Hope the latest lists I sent arrive soon.

I would like to beg you to direct me whenever and wherever you notice I'm going wrong. I'm ready and prepared to work more and harder.

Our missionary center is becoming more and more popular, both Priests and lay people visit our missionary center though many come to take material.

My plan is to make many translations but there are few volunteers in the work. But I know that Mary and our Princess Philomena will see to the problem.

Remember, Mother that you are the center of our force and strength and we pray for you daily for strength and grace to overcome all the obstacles. That is without you we can do little.

I will share with Jude the cassette you sent when I receive it.

If God gives me the grace, strength and good health I will work harder.

Ave Maria!

Paul E.EKpe
St. Joseph's Anglophone Parish
Yaounde-Cameroon
Africa
I just received a packaged from Universal Living Rosary Association of Saint Philomena containing rosaries, pamphlets, scapular, holy oil and cord thru registered mail in via Philippine Postal Corporation. I did not expect that you would grant my request thru e-mail.

I am very much happy with my wife Romelyn and children; Christine Joy, Roselyn Joy and Jerome Joy including my parents of having this great privilege to propagate the Living Rosary of St. Philomena here in our Diocese, Diocese of Surigao under BISHOP Antonieto Cabajog, D.D.

Actually I was surprised when I received the notice just this morning from Philippine Postal Corporation with information that I have a package. When I get it in the post office and as I opened in the presence of my wife and children and upon knowing that it came from the Living Rosary of the USA, we felt great joy as we have now an overwhelming privilege to evangelize the Good News of Salvation thru this devotion.

We will start distributing them tomorrow, during our meeting and on Friday during our prayer meeting of a Servant Community (Catholic Charismatic Renewal Movement) and every time, i will give talk on our formation program. We believe that many would accept the devotion especially that the people of this Country is now experiencing different kinds of problem and this Country really needs prayer to be saved from Massive Corruption, poverty, war, sickness, famine, culture of death (Divorce, Euthanasia, Abortion, Total Infertility and Homosexuality) which is now on the second reading in the Philippine congress. Our Political leaders and the Filipino people are also in need of conversion, where lies, injustices and other evils in the society are happening in the entire Country. Please help us for these intentions. Please pray also for the healing of my Father who is now sickly, my mother and grand parents.

May I also request a special prayer for the Filipino families especially my elder sister Genalyn and his husband Larry and their children whose family was broken due to infidelities committed by both of them. Their children are now suffering the consequences of their separation. Please pray also for the family of my elder brother Florante and younger sister Lilian.

Lastly, Thank you very for giving me a very nice T-Shirt printed with the face of St. Philomena, my wife like very much the T-Shirt.

May God Bless You abundantly! Please pray for a very successful distribution of the said devotion in our diocese.

I also pray for your success in spreading this devotion worldwide. I hope to receive more items in the near future, and may the Lord God would touch people to give donation for this endeavor.

In Jesus and Mary thru the intercession of St. Philomena.

Bro. Jelson D Bangoy
Kaskag Village
Surigao City
Philippines
Live Jesus in our Hearts, Forever!!!

Dear Family of the Universal Living Rosary Association of Saint Philomena,

I am writing to you to share my experiences of some of the greatest things I can see at work with our dearest little Saint!!!

Last Monday, 3/11/08, I began my novena asking St Philomena to help me to fill in a visa application so I can return to this place next year to help these indigenous kids and community especially in their faith journey!!! Through the 9 days, I've been asking her if it was God's Will, show me so that when I do fill in the forms, it may be granted so I can come back, work in the school as a Lasallian teacher and spread her devotion!

Today 11-11-08, is the 9th day and what I experienced was amazing!!!! My school principal here, asked me to see him this afternoon. I went to the office at 1:15 p.m. but he was busy, that he asked me to meet with him at 3:45 p.m. By then, he went for lunch and returned ten minutes later. I went to his office and he asked me if I had the papers all filled in and ready to be sent. My ears were hot! Am I hearing the right words? Yes!!! Praise God!!!! I got them out for him to check through and said to have it ready by tomorrow, Wednesday, so it can be posted on Thursday!!!! It's a miracle of the first part of the processes that are lined up for me!!!!

I need your prayers so that the visa can be granted before school starts next year, 2009 because I am returning back to my country, Papua New Guinea at the end of this month!!!

In June, I received a parcel from there which contained a Philomena Rosary, Holy oil, cord and some membership forms! What happened is that the forms are still with me because I felt that these people, I need to do something for them to see first, or it's to say, I have to get their attention before I enroll them. I should start with the Church leaders, and then move to the others! Pray for me for this to bear fruit!!!

With the Rosary I got, it's something to share about! I got it before World Youth Day. I traveled to Melbourne with six men. I gave three prayer cards to three of the men and committed us to Saint Philomena so she can be with us. All along she was with us and I asked them for their thanksgiving!!!

In Melbourne, I met a young New Zealand boy. When I shared about Saint Philomena, I felt this strong urge to let go of the Rosary! That the Rosary was for him. I tried to fight this by not giving it to him but I couldn't! I gave him the Rosary and he was thrilled!!!! I enrolled him in one of my sheets I had with me. Next I met his teacher and she saw something unusual and appealing in me that she asked if I was a nun! I shared with her so many good things and her, also, the Holy oil just went to her! I enrolled her and gave her prayers as well.

Back in my homeland of Bougainville, so many have good experiences and they asked me for some more of the Holy oil, Rosaries, Scapulars, medals, cords, cards and prayers.

If you happen to have some, please send them with the enrolment Forms to me.

I believe I have said a lot here and I shall hear from yours sometime! Let us continue praying for our great saint to help us shine for others to see!

In Saint Philomena we stand!
Sincerely,
Patricia
Papua New Guinea
Dearest Mrs. Patti Melvin,

Praises and thanksgiving to the Lord of goodness.

I received the FOREX box loaded with sacramentals and rest assured of the task i must do to promote the devotion of the "Universal Living Rosary Association". It's an exciting task to go distributing rosaries and reminding my town mates to live their catholic beliefs regarding the sacramentals and the praying to the Blessed Mother at least a decade/ Mystery of the Rosary.

At the moment i am preparing the lists and hopefully to mail it as soon as i accomplish filling them.

Thank you and God bless us.

Sister Josephine Fernandez, O.P.
Dominican School of Dagupan City
Pangasinan, Philippines
Very Dear Patti,

You and your group have launched me into an inexpressible spiritual baptism. Your Dedicated Decades' pamphlets could be considered next to Bible to me. Some of the prayers and articles there have healed me again and again. Patty, go on, achieve more for the Lord for He will continue to be your support. I wish you and your members health.

Luke Ohaeche

NB, If possible, I need some of these pamphlets whether old or new or even those in the archive. Their messages are all new for renewal each time one looks at them.

Luke Ohaecehe
Nigeria, West Africa
Dear Patti,

I hope I find you well. My family and I are very well and we thank God for that because things are quite bad here in Zimbabwe. There are basically shortages of all basic commodities and even of food stuffs. Daily you here of people dying of hunger and access to cash is also a challenge, so you cannot access cash to buy food or to pay school fees. Teachers have been on strike for basically the whole year and hospitals are closing most of the wards because of lack of medicine. I could go on the list is endless. The does not seem to be a solution in place for the foreseeable future.

Patti I still have not received the cards and rosaries for the three lists I send in December 2007. I have tried checking with the post office but they said if I can get a reference from you they can help me to trace the parcel.

May the good Lord guide you in the good work you are doing.

Warm regards

Rosina
Zimbabwe
Southern Africa
Dear Patti,

I am writing to you as I come back from Kinanira parish on the boarder with Congo, I have seen humanity in catastrophe. Much needs to be done but who is there to do it?

I managed to send across the boxes of devotional items you sent me to another side, this time not to Francis, however, I saw poor souls on the Ugandan side of the border in dire need for urgent attention, even as I write, I can confirm to you that its the blessed humanity streaming across the boarder others are dying on the way while others are shot! Yesterday I was allowed by the Uganda Police to station at the boarder, 5 kms from the parish and dressed everyone that crossed. Many had bullet wounds, children malnourished and others were at the brink of death. I tell you I am happy for one thing: My hands are paining now because of the long hours I spent at the boarder with raised hands to dress all. As I dressed, heavy guns were shouting from inside the forested frontier of Congo. Until it started raining when I went under it back, it has not stopped to now. Think of the poor souls that are now languishing in the forests. Children and women most affected.

Good I understand the language that is spoken, related to Kinyarwanda, before I went to the border I was blessed to quash the Charismatic ideology from the parishioners of Kinanira that included some refuges from Congo. They had met for "prayers". Many went home happy with the Fatima message, however, since my target were the refuges, I promised to return when time allowed to tell parishioners more, they seemed wanted me more interested to take up Rosary Decades.

I had another crushing experience; the parish priest of the area is at the same time the district vice chairman of the diabolical Ugandan political wing of the district. Serving two people is possible? Thus the curate and some other people shared with me that they lack spirituality. I believe the ULRA (Universal Living Rosary Association of Saint Philomena) would be the answer.

Here is my request, to you there it might be demanding allot from you. I see the gravity of suffering and the need, we are privileged that ULRA has a personnel on ground, what so far we have achieved is good but still a drop in the ocean! Is it possible to send me more boxes three boxes with MM and some Saint Philomena oils, I take them to be flown to another direction. Cries are from every corner. I am told to take them to that contact that I got via a satellite link up would take me another 500?

I was failing to leave the parish, I became helpless and fell down and cried when we got news that the rebels with the help of Rwandan mercenaries killed 100 people overnight during the rain???

Pray for us, its raining heavily, and people are in the forest, no food no beddings! They are mountainous and weakened trees and soils are having cut off the slippery narrow roads.

Patti I feel helpless, I can't write more, tears are falling, I will check you letter let me go back to my shappy lodging.

Emmanuel Kitandwe
United Living Rosary Association Liaison
Kampala,
Uganda
Dear,Mrs. Patti Melvin.

I would like to inform you that last week i received your box sent on 7th Oct 2008.

It is with the following materials:

1. Cassette "Mary the mother of Christians" ............................. 1
2. Scapulars ...................................................................... 140
3. St. Philomena's Litany leaflets ........................................... 49
4. D. Cards ....................................................................... 405
5. pray the Rosary booklets ................................................... 3
6. Daily thoughts and prayers for our beloved dead booklets .... 3
7. St. Philomena's Cords and Oil ............................................. 6
8. Ven. Pauline Marie Jaricot's booklets ................................... 3
9. St. John Neumann's catechism ........................................... 3
10. Dedicated Decades Magaizines's ....................................... 5
11. Garment of Grace leaflets ............................................... 20
12. Litany of the Holy Ghost leaflets ...................................... 15
13. The Treasure of the Lord leaflets ....................................... 7
14. The U. L. R leaflets ......................................................... 15
15. St. Philomena's enlarged pictures .................................... 15
16. our Lady's enlarged pictures ............................................. 5
17. Mary's miraculous medals ............................................. 525
18. Rosaries ...................................................................... 135
19. Envelope ......................................................................... 1
20. Enrolling forms ................................................................. 6
21. Other printed materials.

Thanks you very much indeed.
May God bless you.

Mwl. Stephen Tarimo
Moshi - Tanzania
East Africa
Dear Patti,

Peace and Joy!

I just received the box today with all the devotional items you mailed, and stoles and books included - so timely. We have this convent in the south and the Sisters assigned there just need it so badly and so with so much joy I handed on to them the mentioned items. God is really great! Our Sisters are working among farmers and fisher folks and they will bless the convent and chapel early December. What a real gift!

As of now, we have a group of cancer patients her in the retreat house... They are having prayer sessions; I will also give to them the St. Philomena Oil - so timely. What a real gift!

There is influx of people requesting to be part of Universal Living Rosary Association of Saint Philomena (ULRA) here and so the rosaries which you sent are not just enough. So may I again request for additional rosaries, decade cards and medals. This is really a wonderful blessing. What a real gift! I thank God for allowing me to be an instrument in spreading the devotion to Mother Mary and St. Philomena. May this wonderful work be a tangible reason for Ven. Pauline Marie Jaricot to be counted among the Saints in heaven.

Thank you very very much for the shipped box! You have done a great JOB! May the LORD ever sustain you.

In Christ love,
S. Justine, OSB

S. Justine S. Cotiangco, Osb
St. Scholastica's Center of Spirituality
Tagaytay City
Philippines
Dear Patti

Once again receives our salutation in the power name of Jesus, the Holy Virgin Mary and St. Philomena our Protectress.

By the grace of God we are in good health and we hope it is the same for you and all Universal Living Rosary Association members in Dickinson, Texas, United States.

As concerning us we have opened the new pastoral entrance in our parish and now we want to spread the Living Rosary in all parishes of our country and for this we ask you a recommendation, a letter explaining our membership to ULRA (Universal Living Rosary Association), you will find an example at the end of this e-mail with some pictures of our 10th anniversary (see below).

We shall send you the complete list of 15 new members in our next mail.

Patti we shall increase our prayers to ULRA mission in the world.

Courage and God bless us.

From Living Rosary in Côte D'Ivoire
Mr. Kalou Clement,
Coordinator of ULRA in Côte D'Ivoire
Abidjan
Côte D'Ivoire (Ivory Coast) West Africa
Dearest mother Patti

Thank you so much for your love, encouragement and trust, you are giving to me, who am a little ant of Our Lady and the Infant Jesus.

Thank you so much for the cassettes you sent to me, I will listen to them attentively, I know well the condition of your country is very bad and very materialism, atheism, and other evils? You have also the permission of the abortion and the marriage of the homosexual and others, all these things we do not have in our country, Lebanon, here no permit to the abortion, marriage of the homosexual, and others.

Thanks to God and Our Lady, She still protects us of all these things until now, here the family is very united and strong, and the children are very attachment to their moms and fathers. I pray to Our Lady to help you and your country and your dear people who suffer so much of all these evils and oppressions.

I collected today the two boxes you shipped to me, they are wonderful, contains the Litany of our lovely Saint Philomena, that's what we need so much! I wait the others boxes you mentioned that you also shipped to me, I hope you sent Scapulars, and the materials of Saint Philomena, who is very beloved and popular here.

I still pray to Mrs. Lisa and her husband, I offered mass for her, I pray for her healing.

I send you my love and prayers.

Salve Regina, God save America & Lebanon too.

Your little son,
Slave of the Immaculate of Mary,
John Kayrouz
Lebanon
Dear Patti Melvin,

Praise the Lord! We have just finished our Annual Retreat. There were (106) priests who were participating in the Retreat conducted by one of our brother priests. During the days of Retreat, I was praying and offering some masses for all our members of the Living Rosary Association. I have offered some special masses for the pure intentions of the donors who sent me the mass stipends. I will be very grateful to them if they wish and they can send me some more mass stipends.

Soon after the Annual Retreat, many of my brother priests came to me for Rosaries, Medals, Holy Pictures and St. Philomena's Oil. Unfortunately, I have received only one box and of course, it was not enough to share them. In order to please their request, I promise to share them in the next time. I hope and pray that my promise will be fulfilled through the prayer of St. Philomena. Some of the priests told me that whenever, they use the Oil of St. Philomena and its cords, many sick were cured miraculously. I too have experienced quite many times of these instances.

Thanks to God! There will be one of our brother priests who will be consecrated as an Auxiliary Bishop for the Arch-Diocese of Taungyi in the 18th November 2008. On the next Sunday (Christ the King), there will be also six of our younger brothers who will be ordained by the Newly Consecrated Bishop Msgr. Basilio Athai in the Diocese of Loikaw. Let us praise the Lord. Alleluia! Alleluia!

Thanking you and praying for you and all our members of the Living Rosary
Association of St. Philomena.

Good luck and good health and God bless!

United with you, in Mary our Mother of Perpetual Help.

Fr. Paul Maphroi
Myanmar
Dear Patti,

Praise be to Jesus and Mary our loving Mother!

Hope everything is ok.

Much congratulation for the new web site is very very beautiful.

Today, I've received your box sending me on the 24oct.08, many many thanks for it.

Inside I'll find Holy Oils of St. Philomena and two Statuette of St. Philomena, they are beautiful, wonderful.

Thanks God and St. Philomena.

I think that Sr. Gabriella will be so happy for this. Many thanks again.

So, Nena sends you her best regards and her love, she prays always for you, St. Philomena and the Association.

May God and our Mother Mary bless you!!

With love, Marilena
Italy
Dear Patti:

I would like to order 5 bottles of the Saint Philomena oil like the one which was enclosed in the power pack you sent me about a year ago at a friend's request.

My mother has Alzheimer's disease and has been having terrible "sundown syndrome" episodes wherein she forgets who my father is and where she is; she becomes highly agitated and upset and so on - the episodes usually last from 1 to 2 hours - then afterward, my mother has no memory of what went on.

On a three day visit to my parent's house recently, I took the little bottle of the St. Philomena oil from your society to my father and suggested he use it to try to help my mother. Last night, I was very surprised when my father told me he has been applying the St. Philomena oil to my mother's temples and it seems to be helping her. She is a little more calm, many of the episodes seem to be less severe, and she has gone from having the episodes everyday, to having episode free days now and then. My dad told me last night my mom hasn't had an episode for two days in a row. My dad actually asked me to tell him about St. Philomena and seemed to hang on every word as I told him her story. My father told me my mother looks forward to him soothing her temples with the oil, and actually remembers to ask him for the treatment. My father asked that I send him more of the St. Philomena oil, hence this e-mail.

I actually work at the Society for the Propagation of the Faith in Boston.

God bless you for your fine work with promoting Pauline Jarictot's society of the Living Rosary and for promoting St. Philomena. I feel like Our Lady and St. Philomena are helping my family and that there is a miracle in progress!

Sincerely,

Susan Maravic
Boston, Massachusetts
United States
Dear Director Patti,

Happy is my heart that I am to meet our Parish Priest in his office on Friday 7th November 2008 at 16h French time. I am optimistic that he will be a great assistance and support in making the Living Rosary activities establish and honoured here in Strasbourg and the whole of France at large. Thank you for this opportunity accorded me to make God's works known to others.

I will inform you of the outcome soon afterwards.

I am praying that God will guide the whole U S A citizens to vote for the right candidate. May God Bless the United States of America.

Thanking you for your immense services to humanity.

God bless you and your world.

Yours sincerely
JKAsamoah
Strasbourg, France
Madam Patti,

Greet you from Wau, thanks for all that you do, we here now are experiencing another influx of refuges from Darfur that are running from the fighting. Humanity is at stake everywhere, we have also learnt that what is in Goma is tear draining, people are dying, and we tried to call Emma in Kampala, but in vain, is he in Goma. You know he doesn't fear, I always memories his motto that he jokingly share with us "You rather die of a bullet than a spiritual death" We know he must be busy but we need him as you promised us. Although life is hard but his preaching is vital and changes us so much, this is a testimony from many people.

If he links to you send our regards and tell him that we are highly waiting for him.

Louis Peter
Sudan
Dear Sr. Patti,

I am very happy to write this to you and our work here grows steadily. I will be sending some new lists of new members in the Universal Living Rosary of Saint Philomena to you this week. By the way the newly built website is lovely and meaningful. I also have subscribed for the email news letter. We can indeed do wonders with the Lord and our Lady.

Your prayers are needed.
Your brother Deacon Andrew
Sri Lanka
Hello,

A friend of mine called Francis this morning showed me a small booklet "Dedicated Decades" from The Universal Living Rosary Association, Texas USA. It has a heading "Take this Scapular! Let it be thy weapon and shield in battle!"

I haven't read much of it but i have the following requests;

I need the sacramentals from St. Philomena i.e. oils, scapular, etc for my three sickly children - Olivia, Christopher and Laeticia (I lost their mother 03.05.2005 at about 2:30 p.m. that day). I also need the sacramentals for my mother (Jemma) who is battling with cancer, myself, and my friend Francis Olupot.

We are from Uganda. By the way I attended catholic minor seminary in the late seventies for four good years.

What a gift and hope is Saint Philomena to the suffering and hopeless people of the world.

Regards.

Gilbert Odoki Okidi
Kampala
Uganda
NEW!

Books translated into Urdu

Pauline Jaricot
Dearest Mother Patti

Yes my dear mother, we try to give everyone who dress the Brown Scapular, take also a decade in the Living Rosary, it is a miracle here in Lebanon with the Scapular of Our Lady, many priests here who do the exorcism (get out the bad spirits), use the Scapular you provide, they give me their testimonies, that the devil is very scared and terrible of the Scapular, he can not see it and put it in the neck of the person who is possessed, he began to shout very hard and in high voice to take off the Scapular of the person, the priest said to me that the Scapular is very important now in their mission, and it is the will of Our Lady of Fatima who wants that and help them to got the Scapulars, they give you so much thanks to you, to the Universal Living Rosary of Saint Philomena, all her team, members and benefactors, without your love and help, they can not successes in their Marial mission.

Now please I ask you dear mother, to send me more the big photos of our lovely Saint Philomena, and small also, Her oil, cord with Her Rosary, Her story in Arabic with her Litany, I have a big demand for that, we will try to put in many churches in the Capital and others, Her big photo. Please send always the boxes at the name of father Michael, to avoid the charge, I keep you so much in my prayers, I send you my big love and gratitude. Salve Regina save us.

Your little son, slave of the Immaculata: john kayrouz. Lebanon.

Note: we print here the cards of the members of the Brown Scapular.