Dear Mother Patti,

St. Mary's Parish was the last leg of my trip to Liberia. I spoke at all 2 Masses yesterday which started at 8 a.m. After my talk during the Mass, Rev. Fr. Francis Johnson, from Ghana, showed his appreciation by telling the congregation that "my talk is to be used as the Parish Retreat for this Year, 2009". He allowed me about 30 minutes at each Mass to present the ULRA mission in Liberia. Enrollment followed. Many people were enrolled.

The attached photos (see below) show my activities in the Parish. Some Parishioners continued visiting me this Morning at APC for more enlightenment.

I shall return back tomorrow Morning to Cameroon. I shall give general report on the mission.

About 1,000 names are on its way to you.

Ave Maria !!!

Paul E. Ekpe
On his way to Cameroon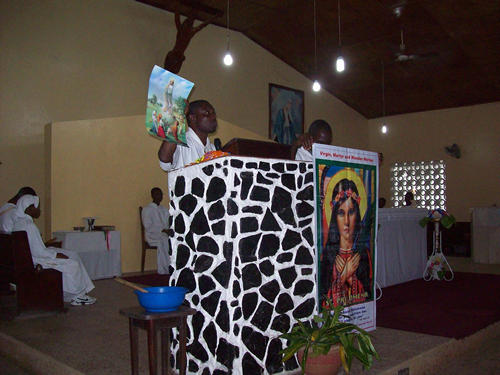 St. Philomena Day of Prayer
29th August 2009
St. Philomena Shrine
Carfin Lourdes Grotto
Motherwell
Scotland

Today we celebrated a fantastic day in Carfin Lourdes Grotto. The Grotto is looking great due to the efforts of Fr Thomas Millar, Rector. The sun was shinning bright as the members of the Family of St Philomena left their homes for this event. The sun continued to shine all day, which is a big thing for us in Scotland!

The heavenly voices and music of the singing group "Four for the Road" filled the church as the crowds began to enter. They knelt at the Statue and Relic of St Philomena as they wrote their petitions and placed then in front of this little Saint, praying all the time for her powerful intercession. The church began to fill with many familiar faces, everyone hugging and so happy to meet up with each other once again. We also had many new faces to add to the already growing number in the church.

The mass began, celebrated by Fr Thomas Millar. His clarity and spirituality added to the already heavenly and happy atmosphere in the church. The entrance hymn was "We Praise Thee Philomena", most of us present stopped joining in the singing just to list to how magnificently it was being sung by the group.

Throughout the celebration of the mass the atmosphere did not falter and was added to by the children doing the offertory procession: 10 year old Connor, wearing his anchor top and 8 year old Filumena wearing her anchor necklace and earrings. Both very honoured to be doing the offertory.

Just before the mass concluded we had a blessing with the Holy Oil of St. Philomena given out by Fr Millar and Veneration of the 1st Class Relic. After the mass the new St Philomena 2-CD set was on sale and most people present bought one. They where also gifted to each child present at the mass who they went away with a huge smile on their face, this was a day they would remember!

We had a break for tea/coffee in the new hall in the grotto called the Xavier Centre. The windows of the hall look out over the grotto with a wonderful view. Everyone was eager to know when the next St Philomena event would take place and were delighted to that we already had one planned at the Parish Church of our Spiritual Director Fr Peter Lennon. The event will take place on the 24th October 2009 at St. Josephs Church in Helensburgh, a seaside town. All were eager to book a place for the coach travel and dinner there. Already we have at least one coach load with many making their own way there. This will be the 2nd year anniversary mass of the inauguration of the St Philomena statue in the Church. God willing our music group will accompany us once again.

We assembled at the Lourdes Shrine to begin the Rosary procession led by Fr Millar, his wonderful singing ability once again lifted spirits that we though could go no higher. As we began to process through the grotto we paid our respects to many of the saints as we passed them. Finally arriving at the Shrine of St Philomena where we recited the novena prayers and litany of St Philomena written by the Cure of Ars, St John Vianney. We concluded the day with an incredible Benediction of the Blessed Sacrament in the Glass Chapel which is situated beside the Shrine of St Philomena. This was conducted in both spoken English and sung Latin. It was a wonderfully spiritual high to complete a perfect day in celebration of St Philomena. We give thanks to Our Heavenly Mother and the Holy Trinity – Father, Son and Holy Spirit for giving us the friendship and care of St Philomena. We know this has taken us closer to them than any other route imaginable.

As usual St Philomena had many little surprises in store for her chosen ones. Several devotees of St Philomena who new nothing of the event today spontaneously showed up, they simply felt the urge to spend time by her shrine. They couldn't believe they had come at this time and were excited about becoming a member of our association. One gentleman in particular had come to spend some time at the Shrine of St Philomena, he and his wife were so devoted to St Philomena that upon her death he sprinkled her ashes at the Shrine, he was overcome with joy of this event taking place today. The most breathtaking moment of this day was, immediately upon Fr Millar exiting the Glass chapel the wind rose and the door of the chapel closed behind him!

We respectfully give thanks to:

Fr Peter Lennon for his continued guidance and support of our association.

Fr Thomas Millar and all the staff at Carfin Lourdes Grotto for their warm hospitality which is faultless.

Patti Melvin of the Living Rosary Association for donating many religious items which everyone was delighted to receive. We plan to repay this great kindness by supporting her missionary work and encouraging membership to her living Rosary apostolate which is her life work.

We keep in our prayers Fr Broadrick who sent his apologies for not being present at today's events, which he was eagerly looking forward to, due to sickness. God willing he too will join us at our next event.

Thank you to St Philomena for pushing us so much to make this event happen. It has been the most incredible event we have ever had.
Dear Mother Patti,

Yesterday, I met the Apostolic Administrator and thanked him on the behalf of the Universal Living Rosary Association of Saint Philomena (ULRA)....... for all the concern shown to me. He promised to push ahead with the activities when I might have gone back.

I also, met Rev. Fr. Garry [British] at the Sacred Heart Cathedral after Legion of Mary meeting where he is a Spiritual Director. He was delighted for few Sacramental I gave him.

Also, today I met Rev. Sr. Mary Laurene, to thank her for the entire plan she played for my coming. She told me that she is very pleased for my coming and all the activities of the ULRA... In fact, she said that many Liberian Catholics are facing the problems of literatures to read to uplift their mind. But she learnt that ULRA is ready to help solve this problem.

Instantly, she told me to see the Administrator of the St. Teresa's Convent to give us any possible room to run our activities for the Archdiocese.

Soon after, I went to the Sisters of Mother Teresa of Calcutta for visit them with some Sacramentals. I met the sister in-charge, Rev. Sister Renette. She took me to AIDS patient's room both men and women and their children. It was very sorrowful to see people suffering from AIDS.

The Scapulars, Miraculous Medals, and Dedicated Decades, I took along, sister told me that they are very helpful and consoling. She begged me to send them Catechism book when I return to Cameroon. She said that they need it very much to use in Schools where they teach.

More so, I went to see Rev. Fr. Larry [an American] at the Holy Innocent Parish. Fr., was very excited to see me with ULRA materials. He told me that he use to do the Apostolate but now he is alone in the Parish, made him for the past 2 years now not very active. Not withstanding, my coming means that Our Lady wants him back to the Apostolate, he told me.

Tomorrow, I shall be at St. Mary's Parish to talk about the Dedicated Decade and Fatima Message. That Parish will be my last stop in Monrovia -Liberia. The announcement has gone ahead. So, I expect huge parishioners for enrollment.

This evening I enrolled the Ambassador of Cameroon to Liberia and his wife. They were at the Convent where I gave them some materials including some books and Dedicated Decades magazines.

Please, I shall send more report Monday, after my visit to St. Mary's Parish tomorrow. The photos are followed according to this report.

Ave Maria!

Paul E. Ekpe
Cameroon
Dear Mother Patti,

This morning I met the Apostolic Administrator, Rev. Msgr. Andrew Karnley to inform and thank him for his generously. From my discussion with him I understand that it is better for us to look for an Apartment for our Bureau in Liberia.

Meanwhile, I have as our coordinator, James W. Doe. He has been with me from the day of my arrival up to now. Again, the Administrator approved his leadership. I will send you James's full address before I depart.

More so, the officers and members of the Legion of Mary told me that they will all give him their support; hence the Universal Living Rosary Association of Saint Philomena (ULRA) is part of their work.

I would like to put everything in place before returning back on Tuesday, September 1st.

I will be sending all the many lists I have on Monday.

I enclose with some photos I had with the Msgr. Karnley and the Radio Veritas building where I was interviewed previously (see below).

Ave..........Maria!

Paul E. Ekpe
Cameroon
Honorable Madam Patti,

Greetings and praised be Jesus Christ.

I am very very happy to inform you that the parcel which you sent me on 3rd June this year has reached me. I had told you that I had not got it. Just today I got it. It was forgotten in the post office. I am so very happy and grateful to you and to God and to St. Philomena.

It is with great joy that I want to tell you that the Holy Rosary is widely being prayed at several locations in the refugee camp. Thanks so much for the materials in Ugandan, Ruwandese, Burundi languages. We also would like to have some materials in French for the Congolese.

I had asked two persons to send you some money. To one U.S. $110 and to another U.S. $55.00 so that you can send me more rosaries and pictures and materials.

With every good wishes and prayers and thanks to God

Fr. Luke
Kenya
Greetings,

I am so glad to see you have this beautiful website now and also you have enrollment in the Living Rosary.

My sister-in-law is Joy from Wisconsin whom I am sure you know well. She gave me St. Philomena oil when my newborn daughter was ill in Hawaii and through her patronage she saved my daughter's life. My daughter is now about to turn 18 and is very devoted to Our Lady and St Philomena.

Thank you for facilitating the bringing of the oil from Italy which led to this miracle.

Carol
Jacksonville
Florida
United States
Hi there Patti and staff,

I hope that this email finds you all in good health; I myself am just recovering from the swine flu. I haven't heard from Sr. Mella in a while, which is not like me or her not to be touch.

I have a few dollars for you, which I hope will get to day or tomorrow through pay pal, from my brother Liam. I will be sending $300.00, which I hope will help in some way.

It's very quite here and money is hard got, I'm hoping to have a service for the Universal Living Rosary Association of Saint Philomena (ULRA) in our church, and to enroll some new members.

I just received permission from our parish priest, and whatever you send us will go along way to help out for the service, posters of St. Philomena would be nice. I'm a little low in cords and chaplet beads. We hope that service will be in the next month just need to get readings and music ready.

I have enclosed a picture of our prayer room where 150 to 200 people a week come to pray to our wonderful saint, our town has a devotion to St. Philomena since 1920 and we have the original statue and banner which you can see.

God Bless your work

Michael Flynn
Ireland
Dear Mother Patti,

Greetings once again.

My 3rd Sunday in Lineria was marked by a visit to St. Kizito's Parish, Monrovia.

Thanks to the Parish Priest, Rev. Fr. Ambrose D. Kroma who permitted me to use his homily period to speak to the congregations. I spoke in all 3 Masses which started at 8:00 a.m. and the last Mass ended at 1 p.m. I traveled about one hour to reach the Parish.

I used the opportunity to call on all the Parishioners to "reconsider again Mary's call for prayer, penance and sacrifice during her Apparition at Fatima in 1917. She called men, woman and children to prayer and sacrifice for the conversion of sinners and for total peace in our hearts, families and in the whole world. Our Dedicated Decades therefore joins us together in common prayer to speedup up her Triumph as she told us that in the end "My Immaculate will Triumph".

More so, enrollment started immediately after the last Mass which ended at 1:00 p.m. I left the Parish at 2:30 p.m.

Fr., Ambrose told me that he and his parishioners are very very happy with me and all the staff of the Universal Living Rosary Association of Saint Philomena (ULRA).

On the other hand, yesterday Monday August 24, 2009, was the Flag Day in Lineria. It was a holiday here. As I went in search for internet cafe, there was not open but I managed to have some snap shots during the mach pass, which are Included. I took photo with the Linerian Military Band and group of United Nations Mission in Liberia (UNMIL) from Nepal.

Thank you mom, the UPS came and delivered the 2 boxes right here in the Convent. This is in contrast with the UPS...services in Cameroon.

This evening, more people shall be enrolling at St. Kizito's Parish during a healing Mass. The 2 boxes are very very helpful for my mission.

Ave............ Maria!

Paul E.Ekpe
C/o St. Teresa's Convent
Monrovia
Liberia
Dear Friends,

I received the most wonderful package today from your organization! It even included an Agnus Dei blessed by St. Pius X, what a treasure! He is one my favorite saints, one for our times, most assuredly. The Lord will continue to bless your work and apostolate. May we all be Children of Mary, Apostles of the Latter Times.

God Bless,

Fr. Brent Keith
Archdeacon, Diocese of the Central Gulf Coast
Headmaster, Cathedral Academy
1204 Highland Ave.
Selma, AL 36703
United States
Parish Web Site: www.ctkselma.com
School Web Site: www.caselma.com
Dearest Mamma Patti

the majority of my work was with father Michael at his convent with the sisters.
He is more than 90 years old. I put all my intentions to Immaculate Heart of Mary.

Your little son, slave of the Immaculata

John Kayrouz
Lebanon

Dear Mother Patti,

Here is the missing photos of my meeting with Rev. Msgr. Andrew Karnley, Cameroon Ambassador to Liberia, his Excellence, GANG'yela Augustine with his wife[I stand in-between them], Rev. Fr. Charles UZoeto of St. Joseph's Parish Sinkor Monrovia - Liberia. Also, some photos of the last Wednesday's enrollment activities.

This morning I met his grace, the Archbishop of Monrovia, Marcus Francis on his sick-bed. His grace permitted me to anoint him with the holy Oil of St. Philomena. He smiled when he saw me with the Holy Oil and cord of St. Philomena.

I call on members and staff of the Universal Living Rosary Association of Saint Philomena (ULRA) to pray to God to send St. Philomena to do to our Archbishop what she did to Ven. Pauline Marie Jaricot in some century ago so that Christians of Liberia will know her the more as truly a Wonder Worker of our time.

And the last three photos here are some photos taken during my visit to the Archbishop of Monrovia, his grace Marcus Francis.

Ave Maria!

Paul E.Ekpe
Monrovia
Liberia
Dearest Mother Patti,

Greetings of Peace!

How are you? Sorry for the delay of the photos which I told you last time that I am sending some. These are the new members of the Universal Living Rosary Association of Saint Philomena (ULRA) with Fr. Ben and the seminarians. I'm studying right now taking up computer programming. Just a short term course.

I already disposed the heavenly gifts you send us and still we need not get tired of reaching people and touching their harts because of the good news we are bringing to them, that is, the Holy Rosary. I hope in my few years of existence here on earth I can, in my own little way bring people to God. Thank you for your love and generosity Mother.

Can I request, altar vessels, Sacramentals, books and holy oils and a tarpaulin of Mama Mary and St. Philomena, and membership badges?

Rest assured of my prayers to you and to the staff. Mochas gracias my Mother. Pray for me too.

Ad Jesum per Mariam,

Owen P. Estrada
Zamboanga City
Philippines
Dear Mother Patti,

Greetings from all of us here!

Sr. Mary Gifty, the Administrator of the St. Teresa's Convent.

Glad to send you photos I took with Rev. Sr. Mary Laurene during our discussion on how the Universal Living Rosary Association of Saint Philomena (ULRA) should be run after my departure, and Rev. Sr. Mary Gifty. Other photos were taken at St. Joseph's Parish during enrollment new members yesterday.

Before the enrollment, the father who was supposed to speak at "Know Your Faith program" was excused. So, I was called up to speak for more than an hour. Thus, I reminded the Parishioners who were about 500 people that the Decade they are going to sign are Dedicated, and therefore, every person who decide to sign it up are called to pray their Decade daily, by so doing we are obeying Our Lady's request at Fatima. We are not called to sign for ourselves but to spread the Association to the end of the earth, I told the hungry Parishioners. All were very excited and that was the reason why they continued to come to the Convent to enroll their family members and friends far and near.

Now, I have about 300 new names ready for postage. Also, more people were enrolled after morning Mass this morning at the Sacred Heart Cathedral.

Hope you receive the photos.

In Mary Immaculate,

Paul E.Ekpe
St. Teresa's Convent
Monrovia
Liberia
Dearest Patti,

Warmest Greetings from Ghana.

I am so sorry to inform you that I am now down with Malaria Fever. According to my doctors I have to take about two weeks rest. I hope our Preaching Team will continue with our normal weekend trips.

Patti, please pray for my poor health.

Yours in Jesus and Mary

Anthony
Ghana
Dear Patti:

You write these lines to thank the material submitted for to continue the mission The Living Rosary. I have registered the new members The Universal Living Rosary Association of Saint Philomena (ULRA).

I would like to express to you my deepest thanks and gratitude for such generous, constant support to this wonderful religious organization, The Universal Living Rosary Association of Saint Philomena.
God bless you all and your family.

United to Mary unto Eternity.

Cristina Toledo D'Arterio
Argentina
Universal Living Rosary Association of Saint Philomena (ULRA) Missionary leaders from Uganda working in Rwanda, with Sr. Immaculate of Butare diocese and another promoter that came from the archdiocese of Kigali. Meeting with the parishioners of St. Joseph parish giving out rosaries, miraculous medals, oil of St. Philomena and other Sacramentals as well as images of Our Lady, Pauline Jaricot and St. Philomena. Met with Msgr. Philippe, the Bishop of the southern Rwandan Diocese of Butare. He thanked the ULRA for our work in his diocese.
Dear Mother Patti,

Greetings from Monrovia-Liberia!

It was so nice speaking in all three Masses yesterday at St. Joseph's Parish, Our Lady of Lebanon Church.

Parishioners crowded me after Mass to get information on the Rosary. Most of the people were staff of the United Nations Mission in Liberia.

Also, I was delighted when the Ambassador of Cameroon to Liberia and his wife came to me after Mass; hence, I introduced myself as have come from Cameroon. He is expecting special Rosaries from me before I return to Cameroon.

Rev. Fr., Charles Uzoeto the Pastor of the Parish received me very warmly. During the Mass, I reminded the Parishioners that the ULRA....has come to give hope to all Catholics who find it difficult to pray the Holy Rosary of the BVM. In this connection, one is expected only to dedicated to reciting his/her Decade daily by so doing will have the grace to pray the entire Mysteries of the Holy Rosary. I reminded the Young People of the Parish that if they pray their Decade, Mary will help them understand the meaning of life.

There will be massive enrollment this Wednesday in the Parish at 5pm. I wish that the box arrives today or tomorrow for me to be able to satisfy and keep my promise.

Below is the photos taken at each occasion.

The 1st photo is my meeting with the Apostolic Administrator, Rev. Msgr. Andrew Karnley, and 2nd photo, is meeting with Rev. Dr., Charles Uzoeto, Pastor of St. Joseph's Parish, next is when I was interviewed at the Radio Veritas about the mission of the ULRA..... in Liberia?

Other photos include some after my presentation in the Parish of St. Joseph and with the Ambassador of Cameroon to Liberia his Excellence, GANG Beng'yela Augustine and his wife.

I will inform you when the box arrives but if there is any possibility to send me some special Rosaries for the Ambassador and some Priests and Rev. Sisters, I will be very delighted. This will be done this coming Week before I return back to Cameroon on the 1st September, 2009.

In Mary Immaculate,

Paul E.Ekpe
Archdiocesan Pastoral Center
Monrovia
Liberia
My beloved mommy Mrs. Patti Melvin,

Oh, so precious and so great the wonder and amazing Lord is.

This week from the 10th august 2009 here in our archdiocese we had the Eucharistic Adoration all the priests and sisters living in the diocese, meditating the meaning of our life and Eucharist as our center of priesthood and religious life, Eucharist as our daily food, food of eternal life. And on opening this mail, am so much happy and praise my lord as his ways is mystical, the priest john Mary Vianney is a lovely and our beloved patron in him there is a fountain of grace and the ways to heaven living in sanctity.


Thanks so much for this beautiful web site and the wonderful job you did now everyone who want to assess the internet will find it and pray together with a humble loving spirit.

I want to share with you a miracle happened this time ,there was a boy had un corneal ulcer on his eyes, and was unable to see ,he went to several times to attend hospital and was told that they are very sorry that he not see again ,he visited our parish and was brought to our convent looking for me, that time we where are praying our divine office, but my superior told me there is body wants to see you, I went outside the prayers place, and went to see him ,and I found two boys ,as I faced them and greeted them ,at once he said here we come seeking St. filomena's holy oil in order me to see as am blind, I went inside and gave him the holy oil and gave him instructions with the short history of St. Filomena. And they left, two weeks later he came alone praising the lord that he had no more problems to see and now he is very devoted boy sing the choir in the church. May his great name of almighty be glorified and praise for ever. Amen, amen amen.

Thanks my dear assured of my prayers always and be blessed in his name.

In Jesus and Mary and our Philomena's name.
Sr. Dr. M. Marthae J. MAO
Daughters of Mary ,
St. Therese Srs Convent ,
Arusha
Tanzania
Dear Mother Patti,

I was at the UPS bureau this morning to alert them about the box. They told me I might have it Monday or Tuesday, this coming Week.

I spoke at the "Know Your Faith" program yesterday. Rev. Fr. Charles was delighted and announced a massive enrollment this coming Wednesday starting at 6:00 p.m.

I will send you the images of my meeting with the Apostolic Administrator, Fr. Charles and my interview with the Radio Veritas later.

In JMJ and St. Philomena,
Paul E. Ekpe
Monrovia-Liberia
Dear Patti,

Thanks for your mail, we are storming heaven by our prayers so that you get the funds necessary for the great work you are doing for the salvation of souls.

The feast of St. Philomena was just wonderful, people came from far and near, yes the Lord is good.

Thanks once more for what you sent we are indeed grateful.

Will be sending the photos.

With prayerful best wishes.

Peace.

Fr. Ayeah
Catholic Mission Bambui
Cameroon
West Africa
Our most Beloved friend (more like family), Eleanor Frank died Aug. 12, 2009 at 10:00pm. Eleanor met my brother Joe on his mail route about 7 years ago. She was widowed young, had no children & considered Joe her "adopted" son. She was with us every holiday, birthday, & most important, she went to Mass every week with Joe & wasn't Catholic. Well, I am so ELATED to say she became a Catholic on St. Philomena's Feast Day.

Philomena's feast day, Aug. 11, 2009. Truly a miracle & an answer to prayer!

Our family will miss Eleanor so much, but we know she's in a better place.

MAY HER SOUL & ALL THE SOULS OF THE FAITHFUL DEPARTED, REST IN PEACE.

AMEN
Dear Mother Patti,

Thanks so much. People had been signing up the Decade. I have got some lists ready to be sent. I will do that before I leave Liberia.

I will go and signal the DHL here in case it arrives for them to inform me on time. People sign before getting their material.

The group of St. Philomena Association exists in the Cathedral. They told me that they never seen or heard about the Chaplet of St. Philomena, the Cord and the Oil for the 1st time. I gave some to those who signed up their Decade. Many other members and Parishioners are coming up to sign to get any of these.

Again, I met a Nigerian Priest, Rev. Fr. Charles. He is the Parish Priest of St. Joseph's Parish. He told me he was enrolled when he was a Seminarian. He invites me this evening to talk about the ULRA...during his "Know Your Faith program at 5 pm. He needed some Scapulars. I will be taking some to him.

The Administrator of the Sacred Heart Cathedral is proposing given an office for the ULRA...Liberia for the moment. I wish to know your opinion before giving an answer. He said that this is to help encourage the ULRA to go further in its activities here.

I am waiting for the Rev. Sr. Mary Laurene to come back for us to screen someone in my mind for now as our leader in Liberia. He has enough time in my mind to do the work.

In JMJ and St. Philomena

Paul E.Ekpe
Monrovia
Liberia
Dearest Patti,

Greetings through the Sacred Hearts, St. John Vianney and St Philomena.

Yesterday I offered Mass in honor of St. Philomena and for the intentions of the Universal Living Rosary Association of Saint Philomena (ULRA). I have distributed the pictures of St Philomena together with the rosaries, and last Sunday blessed over 100 children with the oil of St Philomena. May indeed the little but great heavenly warrior for souls reward your apostolate. Also the additional scapulars arrived, so many have been bestowed, all my hospital and home visits, are marked with the brown scapulars together with the sacrament of the sick/unction etc

Please pardon me if I have not found time to be recording details, especially membership by attributing decades, the large poster of St. Philomena hangs in a school, the Rev. Mother, was delighted to see St. Philomena and all the pictures and rosaries as she has prayed to St Philomena for years since childhood!

Thank you all the members and benefactors all the people who work humbly and many unknown people behind the scenes of organization, postage and packing and ongoing collaborators. Tomorrow 13th August, marks the ordination date of the Cure´ d'Ars.

Love and God Bless

Padre Michael+
Uruguay
Dear Patti,

I just got back from the Mass to St. Philomena at St. James Church, Erie, Pa. Father asked people to sign up for the Universal Living Rosary and had people at all the doors to take sign ups. He mentioned that your group was responsible for arranging for him to borrow the relic from a lady in Las Vegas. There were probably 350 people at the Mass, he also had one this morning. Almost everyone came up to be blessed with the Relic and the St. Philomena Oil from Italy. YOU are responsible for a lot of the graces that were poured out during the Mass and during the blessings. This note is just to say THANK YOU for finding the Relic for us to use. I'll be praying that next year Father can borrow one from someone closer or, maybe by then the parish will have their own. The hymns were so beautiful... All old hymns to Our Lady and the Sacred Heart. Father led the Rosary before the Mass. It's nice to see a priest in this day and age doing that! That never happens in my parish. If I lived closer, I'd join St. James.

Dolores Taccone said she will send you the new sign ups at the beginning of next week.
Sincerely,
Erin
Dear Patti

Thank you for the parcel of Sacramentals that I received last week, I received it in good order. I have since mailed you Rosary requests for forty five people actually more than fifty people wanted to join. To tell you the truth my life have changed since I stated praying the Rosary, I was introduced to the ULRA by my friend in February this year and by then I was suspended from work under unclear circumstances and I had lost my cell phone. My prayers were answered in June when I recovered my phone and I was reinstated to my job on 20 July. I am praying for the Universal Living Rosary Association of Saint Philomena (ULRA) to spread though out Zimbabwe.

Yours in the Mighty name of Jesus Christ

Lovemore Matende
Zimbabwe
Dearest Mamma Patti

I wish you a very holy feast of our lovely patroness Saint Philomena, to your family also, dear staff, dear mom, dear benefactors especially dear Dr. Thomas and his family, all our members and helpers, I pray in Her Feast to help us all and us to Jesus and to the Immaculate Heart of Mary, I pray Her for your big needs for the missions everywhere, I pray God and Our Saint with Saint Joseph, Saint Anthony, Infant of Prague, send to us many good benefactors to help the Living Rosary Association in its needs and charge.

I received today one box after a long time of waiting, I pray to all of you, thank you so much for the booklet of Our Lady of Fatima, I pray one day can visit there and give honor to the three children of Fatima, it is one of my dreams. I love you so much, I send you my love and gratitude and prayers.

Happy feast to Saint Philomena you dearest Mama and director and to all our benefactors and members in the entire world.

Ave Maria Prega Per Noi.

Your little son, slave of the Immaculate Heart of Mary
John Kayrouz
Lebanon
Dear Sr. Patti,

Praise be the Lord Jesus Christ.

I would like to report for the celebration of Feast of St. Philomena which only celebrated on after 8 years ago. We successfully celebrated on the 8th of August. Attendance of the Mass is over 300. We held annual meeting with Zonal promoters they all are 20 numbers. We served the audience tea and cakes and lunch for promoters. We invited 2 parish priests but they could not come for their monthly recollection. We decided to have Rosary Crusade on October in both parishes. The Parish priest agreed for that. We distributed rosaries, scapular, medals and holy oil to old and new members. I consumed all what I keep. Please consider other packages for us, I regularly now and then because the members are increasing.

Thank God, St. Philomena and to you Patti.

Sincerely yours in Jesus and Mary,
Fr. Joseph Mung
Myanmar
Asia
YEAR OF PRIESTS

Dear Brothers & Sisters,

Warm and Prayerful Greetings!

Holy Father Pope Benedict XVI has proclaimed Year for Priests and honoring Saint. John Maria Vianney, the Cure of Ars from June 19th, 2009 to June 19, 2010 as the World Day of Prayer for the Sanctification of Priests. The Universal Living Rosary Association is extending active support for the Year for Priests and hence announced 40 days Of prayer and fasting.

The Universal Director of Living Rosary Sr. Patti Melvin called it a most blessed and holy day the proclamation by Pope Benedict XVI, the Year for Priests for priestly sanctification.Thousands of Priests across the globe are ULRA members and requested all members of ULRA to observe 40 days of fasting and prayers.

The Universal Living Rosary has a providential connection to St. John Maria Vianney. He Was dear friend of Venl. Paulin Maria Jaricot who founded Living Rosary at the age of 27 in 1826. She first founded the Propogation of Faith in 1824. After Venl. Pauline was Miraculously Cured of her severe heart ailment by St. Philomena in Aug 10, 1835, Saint. Philomena became the Only person recognized as a Saint solely on the basis of miraculous Intercession. Venl. Paulin shared the events and sequences of her cure with St. John Maria Vianney. She gifted him the relics of St. Philomena she obtained from St. Philomena's shrine in Mugnano near Naples in Italy. Then she prophetically said to St. John Maria Vianney, "Have full confidence in this great saint. She will obtain for you all that you ask". St. John Maria Vianney did as told by Venl. Pauline. Then he became one of the greatest devotees and promoters of the devotion to St. Philomena. Innumerable miracles he obtained thro' the intercession of St. Philomena to his parishners. Pope St. Pius X named St. John Maria Vianney as Patron of the Archconfraternity of St. Philomena.

Our Holy Mother the Church honors St. John Maria Vianney for his holy example of unceasing priestly zeal, prayer and penance. Together with the Church the entire ULRA members pay tribute to him and pray for his powerful intercession that God through the Holy Spirit pour down upon Priests the graces and the wisdom they need to direct, enlighten and inflame souls with love, that forsaking the paths of life of sin, they may perseveringly follow the road of righteousness which leads to the Heart of God.

Cardinal Caludio Hummes Prefect for the Congregation for Clergy says in his message to the Priests on the occasion of the feast of St. John Maria Vianney "The Church recognizes that Priests are the great driving force behind daily life of local communities. When the Priest moves,the Church moves. If this were not so, it would be very difficult to achieve the Church's Mission".

Venl.Pauline, Foundress of Living Rosary at the age of 23, wrote a small book on "The Infinite love of the Divine Eucharist". She never was tired of contemplating the Inexpressible greatness of the Priesthood. In the book we find her saying "through the Priest, the Holy Humanity of Christ is clothed and made visible. All Priests are but one in Jesus Christ, as a thousand devoted hosts are but one Body of Christ, although He is really present entire in each host. The Priest owes that is to the power and presence of Christ with in him. His power comes from the Tabernacle and it is nothing else other than the power of God. The Priest is the channel through which the Precious Blood of Jesus spills into our hearts".

As Blessed Pope Pius XI said " God in Heaven and I on earth, we desire nothing more Ardently than prayer for Priests…………", let us all members of Living Rosary in India therefore pray more fervently in this Year for Priests (June 19, 2009 to June 19, 2010) and observe (as requested by the Universal Director, Mrs.Patti Melvin) 40 days of fasting and prayers for holiness of Priests and for their perseverance in the Priestly vocation, every Saturday beginning from September 2009 First Saturday(5-09-2009) till the First Saturday of June 2010 (05-06-2010).

Small book on "Beautiful Hands of A Priest" and collection of prayers for priests may be obtained from National Centre ULRA Chennai on payment of some contributions towards the cost of printing. United with you all in our humble prayers.

K. JOSEPH ROCHE
NATIONAL ANIMATOR
The Universal Living Rosary Association
National Centre,
P.O.Box No.1134, Nanganallur, Chennai-600 061
Greetings from Namibia!

It is my gratitude's to write this mail to you! With blessings from our Lord Jesus Christ our savior. I promised to share something of our annual conference 2009. Lots of good things happened. I established a team that is working with me. That consists of 3 religious sisters and one religious brother. In far north we divided the group in two regions. The first group has 15 groups of the Universal Living Rosary Association of Saint Philomena ULRA). Two co-coordinators for each group. And it works very well. There is co-operation in these groups. We attribute God for the atmosphere such as this. Many miracles were shared. For example one lady whose son stayed away from the church for many years came back to church. The other lady wanted to belong to a prayerful group that will serve her hunger of God. She thinks that she had found her home in the ULRA. A mother of four children is deserted by her husband. And has been experiencing lots of financial problems. She joined the ULRA last year at our annual conference. She prayed the novena of Santa Philo. Her prayers were answered and she received enough donations that helped her paying the school for her children. She is ever grateful to the little Saint. One young man was unlawful arrested. The next day when he turned up for the court hearing, he was told that there will be no hearing anymore and he could go home.

All in all, the turning up of the children who are enrolled in the ULRA is very overwhelming. We have decided to teach them the Rosary first and help them to love Mary as a Mother. They are very interested in the life of Mary and events that surrounds Marian actions.

The list could go on and on. Enclosed find the attachment of some photos taken at our conference, I hope you and our sisters and brothers in one faith will be able to grasp the concept of our activities here in Namibia.

How is Joseph of India who has been sick? Hoping he is better by now. We send lots of love and prayers.

Thank you for your help and support, God bless you and those you love

Sr. Margareth Mary Uutoni & team
Namibia
Dear Patti,

God Bless you and all you are doing...We are right in that Novena to St Philomena and certainly you and the requirements of The Living Rosary are included in our cry to Our Loving Mother through Her Daughter St Philomena...

Some 1,830 new members have joined us in the Universal Living Rosary Associaitno of Saint Philomena and waiting to be posted to you. I pray you have received other lists...Our landlord is a bit jittery for his rent what with the stroke he had recently.

Please pray for Akabwai Angela (R.I.P.)

Lawrence Esiangu
Living Rosary Centre
Kumi Uganda East Africa
Dear Sr. Patti,

I am happy to write to inform you that I have sent 40 lists of 600 members today. The feast will be celebrated on 10th. Our new archbishop has solemnly installed yesterday. We hope and pray that His Grace will do much for Universal Living Rosary Association of Saint Philomena (ULRA) in Sri Lanka. We are preparing a spiritual bouquet for him. I also distributed the small booklets on priesthood to many priests.

I daily pray for your needs especially the financial need to be met by the Lord. Pray for me.

With God's blessings!

Rev. Fr. A. Uthayadas
Colombo
Sri Lanka
Hello Patti

I thank you for your reply and the wishes and prayers for my safe journey. I will not be gone for long, just ten days.

Any luck for a dispatch to this area. Please Patti do not forget us here, I am mindful of the heavy lot of demands from all over the globe. With the help of Saint Philomena, have us here in Juba, Southern Sudan also in your dispatches. Bye for now and have a very blessed weekend.

Ave Maria!

Theresia
Juba
Southern Sudan
Dear Mrs. Melvin,

The condition is getting worst after Gojra incidence which is only about 65KM from Faisalabad. But it is not only going to affect Faisalabad only but the whole country. Please pray for this present condition. This change against Christians has been built up after the change of the government of Gen. Rtd. Parvaiz Musharaf. Our central government and province sindh governments are good but in Punjab where ruling party is Muslim League (N) is basically against Christians do not care for such incidences. Today there is news of arresting a woman under blasphemy law.

Please Pray.
God Bless You,
Yours in Christ and Holy Mother,
Afzaal Anwar Khokhar
Pakistan
Dearest Mrs. Patti

Today I went to the Post Office and wrote the request to find out the box. I have the copies of the Mass Cards which I can send to you via post mail. Yes I saw the Mass stipends section and I am very impressed with the design and smart ideas which you used. If you want me I can send you the Gregorian notes via e-mail tomorrow morning and you will be able to send the notes tomorrow morning. I don't trust the post mail and try to secure the documents by making the copies.

Also I want to let you know that you got all the booklets about the priests. Do you have success with distributing them in USA? Also my team is ready to design the Fatima booklet and tomorrow I am going to send you the new member's lists for July of 2009.

Please let me know how can I help you and I am ready to move the mountains for you and Living Rosary organization.

With the prayers and respect father Ivan Kolodiy

Father Ivan Kolodiy
Lviv
Ukraine
Dear Patti,

I wish to thank you and to inform you that I recieved your package of various prayer leavlets of St Philomena etc to me yesterday. I accept my Annouciation Decade and will do my best to be faithful to it.

May I ask to know how I can make contributions to the success of the various material distributions and to keep my St Philomena lamp burning.

I sincerelly wish to promote the crusade for my Love - St Philomena, and my only Mother - the blessed Virgin Mary - big time; as much as I can and as far as my resources could carry on.

Hope to hear from you soon.

Love from,

Paul Anike
Cameroon
A picture of the Diaconate ordination. The work in the mission is successful. Put us in prayers.

Immaculate Heart of Mary, Be my salvation
Jude Thaddeus Langeh Basebang, cmf
ThÉologat ClarÉtain
YaoundÉ
Republic of Cameroon
Central Africa
Dear Patti.

Greetings from Uganda. I received a small box today with two good books and other nice things. Thanks. You expressed your eagerness about seeing my book. The printers want $1600 for 2000 copies. But I am working round the clock to have the book printed soon. St. Philomena has never failed to come to help us. The Dedicated Decade is magnificent with our bishops one emeritus the other incumbent. We started the Novena of St. Philomena and let us have great hope she will give us the funds for our book.

God bless you

Maj. Godfrey Wababa
YOURS IN CHRIST
Uganda REP. ULRA EAST AFRICA
A novena Mass in honor of St. Philomena will be offered at St. Paul's Church in Mansura, Louisiana August 3rd through 7th, Monday through Friday, at 6pm.

The closing Mass of the novena will be offered on Monday, August 10th, the Feast of the Martyrdom of St. Philomena at St. Paul's Church in Mansura at 6pm. This Mass will be a Solemn High Mass offered according to the 1962 Missal.

A Latin mass will be offered at the Shrine of St. Philomena at St. Paul's Cemetery on Tuesday, August 11th at 8am.

A mass of thanksgiving will be offered at Mater Dolorosa Church in Plaucheville on the evening of August 11th at 6pm.

For more information please contact Fr. Chad Partain at 318 964-2921
The Church address is: St. Paul the Apostle Roman Catholic Church
P.O. Box 130
Mansura, LA 71350
www.stpaulsmansura.com

The physical address of the Church is 1879 Leglise St., Mansura, Louisiana, 71350
Dear Sr. Patti,

The airlift arrived safe. A big thank you. The work is going on well. Printing and promotion and introduction are on the pipeline. We will do our very best for the Triumph of the Immaculate Heart of Mary, our dear mother.

With God's blessings! Please pray for me.

Rev. Fr. A. Uthayadas
Sri Lanka
Ave Maria!

Mother Patti,

Universal Living Rosary Association of Saint Philomena (ULRA) on line shop is another successful creation of yours. May the Good Lord inspire you more for the greater glory of God and for the salvation of Souls.

God Bless you!

Jerome Vidal Dizon
Dagupan City
Philippines
Photos sent from the Universal Living Rosary Association of Saint Philomena Center in Lebanon - John Kayrouz
Dear Mrs. Melvin,

Thanks for your prayers. Please pray for our country and especially Christian community. There is great violence. Today, I was to go to Gojra to start celebrations of the Feast of St. Philomena but on 30th evening some culprits set on fire a Church and 45 homes of Christians. Since then there is continuous fighting in Gojra. Today also the situation is the same and Fr. Shabir the parish priest who invited me to Gojra has cancelled the program.

Now, I will go to Khanewal on 9th, Sargodha on 11th, Sambriyal on 16th, again Sargodha on 22nd and Jhelum on 28th. We will celebrate the Feast of St. Philomena in these cities. In addition, Gujranwala and Gujrat has not been finalized yet.

I have received the airlift with so many nice things. Can you send me two software CD's. One of Windows XP and other of any registered antivirus. With the CD's available here especially of antivirus, we cannot remove the virus completely and many times I need to install windows. Please If It Is Possible Then Only Send Me. Otherwise I don't want to make trouble for you.

OK, Good Bye and God Bless You,

Yours in Christ and Holy Mother,

Afzaal Anwar Khokhar
Pakistan
Dear Mrs. Patti,

Since Monday the 27th of this month, I am now on work in Christ the King Parish, Fulikom. I have been posted to a Zone known as Anjin and I am doing my apostolic work there. Many are picking up the decades. I just came to the main parish to take communion for communion service tomorrow. We shall celebrate the Assumption in a Nice Style. We shall also do the novena to Saint Philomena. I will try to see if a photographer can take us some few pictures. Most of the work is done by trekking. It is really nice working as a deacon. I already have 60names for enrolment in the Scapular on Assumption eve. Many more will register tomorrow. Please pray for me for the success of the work.

Immaculate Heart of Mary, Be my salvation.

Jude Thaddeus Langeh Basebang, cmf
ThÉologat ClarÉtain
Republic of Cameroon
Central Africa
Dear Patti,

First of all let me start by thanking you for the wire sent to my new account which came in few days after the transfer. The amount that came in was $65.00.

On Saturday, 25th July 2009 I embarked on a trip to enroll Universal Living Rosary Association of Saint Philomena (ULRA) members in the northern part of Nigeria as my last trip was in vain due to the religious crisis, but I had to stop over in Maryland where Rev Fr .Anthony invited me to his orphanage home which is located in Gwagwalada. On my way to the place my bike had a flat tyre and I had to walk for about one and a half hours before I made it to the place. 750 people where registered but due to the problems I had on the way and for the fact that I was traveling, I put another day for the children at the orphanage home as it was getting late. Please see some of the attached pictures I took. I was accompanied by a sister in Christ and a strong member of the ULRA (Andikan Okoro) who is based in Nasarawa state.

While we were in the bus traveling, a report came that there was violence up north by some Islamic group called "Boko Haram" and as at the time of that report, about 53 people had already been slaughtered. We had to stop in Lafia to try and get more facts about this report so as to know if we could go on with the trip or not. But after my findings, one thing was very clear to me, I had to discontinue the trip and again we went into hiding for safety in a village. I wanted to know who these people are and what does Boko Haram means and I got the ans. Boko means education and Haram means forbid or forbidden. This means that these people are opposed to western education and civilization in totality. They don't want people to use handsets, TV sets, Fridges etc. What I found very strange is that unlike before where only Christians where targeted, this time, both Muslims and Christians or anybody who refuses to denounce civilization was attacked and
killed at once.

Everything was at a standstill as this group unleashed terror on innocent citizen .And as of the time of this email; about 530 innocent people have been reported dead. On Thursday, 30th July, 2009 the leader of the group, Mohammed Yusuf was killed in a shot out with the police officials in Borno state and several other members of the group arrested. The most annoying thing is that when the home of the late leader was visited he had everything a man needed for his comfort including a satellite dish, so one begins to wonder why he embarked on such a mission in the first place without starting with himself. I tell you the devil is at work and all we need now is the intervention of our Beloved Mother Mary.

Normalcy has since returned in the affected state namely Borno (where the fight started), Kastina, Gombe, Yobe and Kano.

I came back on Friday with all my materials intact and in good condition of health. Please kindly pray for me and my wife that our home be blessed with a child as my wife is very sad ever since we lost the first child.

Thank you and God bless you

Michael
Nigeria
Dearest Mamma and director Mrs. Patti Melvin,

Thank you thousands of times for your love ,zeal and support to our work here to Our Lady and Saint Philomena our lovely patroness, Yes we will prepare a good feast to Saint Philomena ,but I wait the Sacramentals.

I do not have anything now, the work is very good, I have a big demand from everywhere to have the Brown Scapular, and the Sacramentals of Saint Philomena. I thank our dear benefactors, especially Dr. Thomas and his family, all our dear staff, your dear mom and Father Brother. I keep you all in my poor prayers. We pray here so much for the chapel of Saint Philomena. It will be a big blessing to all of us here in Lebanon and the countries around us. I send you my love and prayers, and gratitude.

Que soy Era Immaculata Conception.

Your little son, slave of the Immaculata
John Kayrouz
Lebanon