Dear Devotees of St. Philomena,

Greetings to you from me Fr. Luke or Sajan, the Parish priest of Holy Cross Parish at Refugee Camp, Kakuma, in the Diocese of Lodwar, Kenya. This is the Turkana Land.

This was a camp mainly for the Southern Sudan Refugees and it still has Sudanese, Ruwandese, Burundians, Ethiopians, Eritreans, Ugandans, and Somalis and so on. We have a Parish with 4 Substations. The Refugees are very eager about their Christian faith. Actually I am going in an hour's time to baptize about 70 at Christ the King Substation.

Looking for rosaries for the refugees, I came across Samuel Bosco Omondi at Don Bosco Nairobi and he gave me over 130 rosaries. Thank you so much for your great help. We appreciate very much and pray for you.

I have other than today's 70 to be baptized over 200 young children learning prayers and are to be baptized in the month of July. They have learned all the basic Christian prayers and the prayers of the Holy Mass and even the mysteries of the Holy Rosary. I would like to give them also rosaries along with their mothers and other members of the family. This is just from the children of Christ the King substation.

We would appreciate very much if you could help us with as many rosaries as possible and also Bibles. We prefer to have Catholic Bibles in English language, at the least the joint edition by the Catholics and Christian groups, since they will go back to South Sudan and spread the Catholic faith there. If you cannot give us the whole Bible at least if you can give us some New Testaments, that would be great.

For the moment if you could send us at the earliest some more rosaries and as we continue our communication, we can see how to cooperate in the work of evangelization among the refugees from the various nationalities.

Wish you all a very happy Feast of the Pentecost.

May the Spirit guide and lead us in HIS work.

Yours in St. John Bosco
Fr. Luke

Fr. Luke Mulayinkal sdb (Sajan)
Don Bosco V.T.C.,
Holy Cross Catholic Church, Refugee Camp,
Kakuma,
(Lodwar),
Kenya
Dear Patti Melvin,

I would like to thank you for the box you sent me filled with miraculous medals. I begin to string the medals.

Thank you very much and please pray for me-

Emanuel Micallef
Malta
Ave Maria!

Mother Patti,

God is Good!!!!! The children's festival yesterday was successful!!! I had taken pictures to these cute little ones. At 8:00 a.m. to 11:00 a.m. I was in the Annunciation of the Lord Parish. From 12:00 noon to 2:00 p.m. in St. John the Evangelist Cathedral. 2:00 p.m. to 2:15 p.m. in the bank and 2:30 p.m. to 5:30 p.m. I was in the St. Therese of the Child Jesus parish. It was raining cats and dogs yesterday so they transfer the venue in their parish halls. I hire vehicles to travel three large bags full of heavenly treasures plus the heavy magazines and catechism booklet from one parish to another. It was tiring but it is worth it. The smiles of these little ones and their catechist are priceless! I did not yet receive the money you sent in mail. But I received a Forex Box this morning, no fund for the work inside.

We need to do sacrifice, Souls are priceless and precious!

Servant of the Immaculata,

Jerome Vidal Dizon
Dagupan City
Philippines
New in our Sightings Section
Photo taken by
Stefan Neikes
A Painting of Saint Philomena in the shrine in Mugnano.
Sent to us from Ana María Ribes (Meldelen)

Click Here to view >>>
Dear Patti,

Thanks for the communication about the deceased Lisa Simpson; I do most especially convey my heartfelt sympathy to the bereaved family and you! She has been a supporter of Mother Mary's work; I pray that the One she served unreservedly opens her gate to Heaven!

You will always miss her! During the course of my stay in Rwanda, I will daily offer a bead of the Rosary for her and will request all the faithful to beseech God for the eternal rest of her soul I'm going to offer mass at Christ the King in her honor at Christ the King at lunch time, 3hrs time.

Emmanuel Kitandwe
ULRA Liaison
Kampala
Uganda
Oh sorry mum!

Condolence for Liza! May her soul rest in peace! I will offer masses for the repose of Liza! May she rest in peace oh god have mercy on her! Eternal rest oh lord may her gentle soul rest in perfect peace!

Thanks in advance for the boxes! I want to send Fr. Tim, the priest staying with me to Busia...they said it is about 1000 km from Nairobi... I will go to Buru Buru parish near Nairobi while Fr. Tim will go to Busia, he is from the place and I will give him materials and next time I will go with him! For such a journey I have to prepare, service the car, change the tires etc! I will make long journeys with serious preparations!

Today I sent 4 different promoters, Modesto, Jacqueline, Bosco and Emily to different places and with materials and already they returned today about 3000 names!

Forward ever!

Ave Maria

Fr. Patrick Mary Filomena
Kenya
Thanks mum!

Yes mum I am ready for all! We cannot give up! Forward ever!

I have two invitations from 4th June! One in Nairobi and the other in Busia!

Busia is far after kisumu! Two days journey! The parish priest is waiting for me! I will leave on Friday 5th June with my car so to arrive midnight the same day! With my car I will go faster! So I may need more Sacramentals! A priest who knows the place will travel with ne! He likes St. Philomena! He is asking for her shirts! He is going to take a new mission in desert areas of Kenya called Isiolo Diocese...I will go also with him by end of next month...it is our new mission to be open soon!!!

We shall keep in touch!

Viva Patti

Ave Maria

Fr. Patrick Mary Filomena
Kenya

Dear Mrs. Melvin,

Thanks for the airlift reached me in time. I have nearly finished all the stock especially of Rosaries and Medals. So, please send me two or three lifts (one more urgently).

I was in Karachi as I told you that day. I returned back on 21st and went to Mariamabad and Sialkot from 22nd. I reached back yesterday. Tomorrow, I am leaving for Sambriyal and Bahawalpur. I was busy; therefore I could not contact you. My arm is little better but on that day while I left Mariamabad I gave the bag to the person in the van to put it somewhere. I don't know where he had put it because when I got the bag it was fully heated. At once I opened it to see the medicine (Garlite Tablets). The bottle had little melted and the tablets had changed color. I have not taken the tablet again. I should have put some tablets in any small bottle to take with during travel. If you can please send the bottle once again.

I am sorry to hear about Lisa Samson. My prayers are with her and her family.

I have sent you three packets in this month. Please keep me informed when you receive the packet.

OK, Good Bye and God Bless You,

Yours in Christ and Holy Mother,

Afzaal Anwar Khokhar
Pakistan
Dear Director Patti,

With grateful heart I thank you all for your thoughtfulness. The forex box reached to the convent few days before I arrived from a vocation campaign in Visayas and Mindanao. The rosaries and fosters had really soothed my tiredness...I was deeply touched by your efforts and was inspired to give my time for the apostolate of the association.

I was so lucky to have been given a chance to promote the Universal Living Rosary during the summer youth camp of the diocese of Kidapawan, and in southern part of Cebu. I mailed 90 Rosary groups last May 25, 2009. Please let me know when it reached you. More groups will follow.

I wish I can send you pictures of the Rosary members after my vocation campaign in Northern Luzon.

Thank you so much, and May God bless us all...

AVE MARIA,

Sr. Maria Corazon A. Lendio
Daughters of Virgin Mary Immaculate
Muntinlupa City
Philippines

Dear Patti,

May the peace of the Lord be with your family and all at the Center!

Many thanks for the box of Sacramental gifts through my post Office Box. I am now busy sending this information out and getting helpers to commit themselves to taking up 30 days praying for souls in Purgatory. This month of May has been quite busy registering students at a high school and members of a youth group and their families to join the Universal Living Rosary Association of Saint Philomena (ULRA). I did awareness with 10 people at one evening praying the Rosary with them and distributed the ULRA leaflet. This resulted to 100 people coming forward to take up a Decade. Little by little we are getting there!

I will organize some photos soon and send them over.

God bless you all!

Sabina Fuluvii
Papua New Guinea
Dear Mother Patti,

I received an air lift yesterday through UPS. It contains; Rosaries of 15s, 15 special other Rosaries, 2 Crucifixes and 1 small one, 5 bottles of Oil, Novenas etc...

I was delighted to hear from Fr. Jean Claude of a box he received. I told him to enroll and send lists.

The Director of customs in-charge of UPS revealed to me that he will be blessing his marriage on Pentecost Sunday thanks to the intercession of St. Philomena. In addition, he said that his right foot was healed from fracture thanks to the Oil of St. Philomena. He added that he cannot do without St. Philomena's Oil and again, it is not only for physical healing but it obtains also grace for one to be committed Christian.

Ave ........Maria!

Paul E.Ekpe
St. Joseph's Anglophone Parish
Yaounde
Cameroon
Africa

Hi Patti!

I acknowledge the receipt of the beautiful parcel on the 15th of May 2009. Indeed I am very grateful upon receiving it; additionally, I am underway to enroll some members who show faith and willingness to join our family association. More, I will send in the new list as soon as the first 15 decade is filled. Thanks for your fervent prayers and continues hard works for the good of all around the world and especially for us here in this country. Today, I'm living in Honiara, the capital of Solomon Islands. I find new employment with the Ministry of Forestry as an Accountant, and as such I can now able to contact you more easily as I have access to e-mail, phone & faximile.

Hope you all the best and the continues Blessing from the Almighty Father and Christ Jesus our Savoir & Redeemer.

Cheers

Coleman
Ministry of Forestry & Research
Honiara Solomon Islands

Dear Patti,

Greetings from Yei in South Sudan, thanks for all that you are involved in, we thank you most especially for giving us a gift of prayer that we had not known before as we lost all our years in the war! This is what is still reverberating in our society.

The Effort of the Universal Living Rosary Association of Saint Philomena (ULRA) to evangelize us here is a great step towards our civilization that has not been heard of before!

We are ashamed to tell the world that In Sudan we still have most backward families! Why? The issue of the Moslem brothers from the north that wanted to keep Africans as slaves in their own land!

Like South Africa, our country was also tattered down by the war, however, we now feel consoled with you!

It's surely shaming that what took place in South Africa last year also came, the hunting down for foreigners that have tried to put up small businesses! Sorry, that 7 Ugandans and 40 Kenyans were killed this last week, were stripped from their work place and short by the still predominantly ruthless population! This is why I say that you are doing an excellent work with Emmanue as your representative here! I do assure you that none of the people that have ever attended his talks were involved in the killing, like me were all ashamed at the behavior of their brothers!

We do ask you Mother, to put au on the list of your priorities so that Emmanuel can come regularly you Sudan, to train us in civilization techniques, he is more than even most of our priests here, that are equally traumatized like us!

We beg you

God bless!

We send our Love during this lovely evening when we see clouds gathering for some rain!

John
Sudan
Dear Sir/madam,

I write to indicate our appreciation for the safe arrival and receipt of the package the Organization sent to us containing the Rosary, various booklets, St Philomena's Cord, Oil and other items. This is in reference to the letter sent by Mrs. Sandra Kikini of P O Box 1135, Honiara, Solomon Islands in March 2009.

We would like to know if the entire Rosary's have been blessed so that we can distribute them to our family members and also additional information regarding the contents of the package. In addition, is it possible if each of our family members (4) i.e.: Jaydee, Daryl, Bessy and myself can receive St. Philomena's Cord and Oil for our personal use seeing that my spouse, Sandra has received hers. Please let me know if this is possible and what line of action we need to proceed with.

All in all, thank you once again for the valuable package as it was very timely and we are truly grateful. The arrival of the package has further encouraged us to strengthen our faith in praying the Rosary.
May God continue to bless you and the Organization for providing such valuable information for Spiritual enrichment and guidance.

Please accept our appreciation and my family look forward to hear from you again.
Thank you once again.

Kind regards,

Maurice Nonipitu (for Sandra Kikini)
Honiara
Solomon Islands
Dear Patti,

Greet you from diocese de Dungu, we one you sent us boxes with from Sudan, thanks God we so happy for miracles

1- Children who affected by the skin disease from malnutrition are use oil and get scales off body! Its miracles for those run to bush come back home,

2- Two girls , Fatima and Josephina escape rape by soldiers when closed them self inside their home and all others had run away when Kony soldiers attach a locality, force door open but fail, try threaten the girls open but girls continued pray to the little saint for protect and win! We all happy, but need more prayer people still kill by rebels that run to central Africa republic!

Emmanuel Where is he?

We pray you all to help us again with Rosary and, medal

Severio
Congo
Dear Patti,

Thanks for the box which arrived yesterday. I am enjoying the tape by Fr. Casey about defending the Glories of Mary.

Master piece!


Yours in Christ
Major Godfrey Wababa
Rep. ULRA
East Africa

Dear Patty,

I hope you have had a very blessed week. I am so grateful for what you have sent to Sister Laura and me....we have shipped the materials to Nicaragua ahead of us. We leave for Nicaragua on May 27 and May 30 respectively. Together we have a mission planned in the mountains of western Nicaragua, where there is no electricity or running water. It is so very beautiful though - the people have an amazing knowledge of God to be so deprived of material things.

I had the privilege of speaking to one of their 'Delegates of the Word,' (a deacon) - he had a thorough knowledge of some of the newest and most hotly debated issues in religion - like abortion, birth control and stem cell research.

We will conduct mobile medical clinics in conjunction with the Church there. The priest over this area is truly a hero of the Faith. He remained faithful in spite of the war being heaviest around him during the early 1980's, when the Sandinistas and Contras had their conflict. He was constantly in danger but never deviated in his duties. I admire him greatly as a Father in the Lord.

Sister Laura will be giving out Rosaries and talking to the people, teaching them how to pray it for those who do not know. We will be carrying everything on mules and riding them also! It is an adventure.

I have just returned from Seattle, where I had the very blessed adventure of seeing my twin god daughters receive their First Holy Communion. Their names are Sophia and Joelle Joosten. I am so very proud of their parents, who are converted Catholics. John is a pediatrician and his wife Lauris is an elementary school teacher, who stays home with their five children while they are little. Their home is a little haven of rest when I visit.

They go to St. Philomena's Church in a suburb of Seattle. They have formed a Rosary prayer group of young families much like themselves, and they have been a strong influence for solid teaching and the fundamentals of the Faith in an area known for being one of the most liberal in the United States. They have expressed an interest in receiving materials on St. Philomena and connected with her, since she is the Patron Saint of their Church. Would you be able to send them some materials?

Thank you for what you are able to do! We will let you know how our mission goes in Nicaragua! Love and blessings,

Dr. Debra
Arkansas
United States

Dear Patti,

I am so zealous and eager to know your reaction/response to my suggestion to visit and encourage Philomena devotees, and distribute to them, some of the contents of the boxes you sent. As I told you, I did distribute, and I do often have Meetings and communal recitations of the Rosary (Decades), and share/explain/translate the literature about the Rosary, Our Lady and St Philomena with Groups in my Parish. This, I do only with Christians near me. Those people you referred to me live very far away, and keep ringing and writing me to visit and encourage them, just as I do with others. They are right. They also need a share of all these religious items. To drive, visit, and distribute to all these, I would require on fuel, at least 130,000 local Malawi Kwacha (an equivalent of US $1,000) only. If this is not possible, is there any other best way I could do to help and satisfy these people's zeal for our Devotion? Please, advise. Because I cannot reach them out, they feel isolated, deserted and like sheep without a shepherd. I am ready to execute whatever you advise me to do. Otherwise all is going on so well. Greetings and Ave Maria!

Rev. Fr Remigius L. KASAWA, DP
St. Peter Claver Catholic Parish
Ntcheu
Malawi
Africa
Dear Patti Melvin,

I am grateful to receive your first parcel of religious articles. They have been sent to Yangon. I am right now in Bangkok and will be back tomorrow in Yangon to Loikaw. It is much safer to send via Thailand.

Thank you again. You will make many people happy and grateful. Please continue to send.
In gratitude,

+ Sotero Phamo
Bishop of Loikaw

Dearest Mamma Patti

Thank you so much for your love, zeal and encouragement to me and our work, I received today 3 boxes together without charges, Thanks to God and Our Lady and Happy feast to Saint Rita, May She helps us in our life and mission with Our Lady and bring all souls to Jesus. Thank you so much for the big photo of Hail Mary, it is wonderful, I will put to it a frame, and show it to everyone. I send you my love and prayers.

Ave Maria.

Your little son, slave of Hail Mary:

John Kayrouz
Lebanon
Hi,

Thank you very much for your instant reply, I wish to share my story about my village, it is located along the beach and the village is 100% Catholic. In the past years in the early 80s and 90s we were richly blessed with the Holy Spirit. There were youth groups and charismatic fellowship groups and the village was very much alive in spirit. Years went by and suddenly things began changing, people started to ignore church activities, some families changed church from Catholic to evangelical church and broke statues, rosaries etc, youth involved in drugs, not many people going to garden, stealing in gardens took place too, my village people begun to lose interest in prayers, they grew weak in spirit and last year November2008- January 2009, a minor tidal wave hit my village, there was not a single house left, all villages moved up to the higher grounds, they lost everything in their homes.

That's when they started to seek help and security from God again. Messages came through some gifted people that they should turn away from sin and repent. I wish to collect some rosaries and scapulars for my village people, I am planning to visit them in Christmas and present the rosaries and scapulars to them.

I appreciate this conversation with you. Thank you and God bless you.

Ms Jean Kagai
Papua New Guinea

Dear Patti Melvin,

How are you? Hope, you are well as I am here. I have just come back from the Capital City, Yangon which is more than (300) miles away from Loikaw, our Capital Town in Kayah State. I was sent to attend the Course of Linguistics Introduction for Translation. We were all together six to attend the Course, three priests, and three laymen. Unfortunately, I was the only senior one and could not attend the Course up to the end due to my poor health (high blood pressure).

Our professors were O.J from Canada, J.W from United State, and Michiyo from Japan. It was wonderful for me to know that three of them could talk and explain everything in Burmese. From the Course, I have learnt many things and I hope to translate more Religious Literatures into our own mother tongue. So far, I have finished some translations such as Prayers, Hymns, Catechisms and the Fourth Gospels into our local dialect.

Regards to the new enrolment of the Living Rosary, I will discuss with the new comers of the Seminarians and the Legion of Mary. The old Seminarians and Legion of Mary who were already enlisted their names in the Rosary Association; I believe they are faithful to their assigned decades as I do. It is said that many of their Rosaries became old, rustic, broken and lost. So, please do remember all of us whenever you send out some Religious Articles and Pious Objects.

Dear Patti Melvin, what about the Motor Cycle or Van Car we proposed for the pastoral activities? It is really very unpleasant or rather it feels me bad to ask you again and again about this project. But, what can I do? It is indeed sine non qua for me as I have mentioned in the former letter. I have been praying and now am praying for this particular need for my pastoral work. Please let me know either the positive or negative answer so that I may be able to approach other agency if I can.

Thanking you and praying for you.

Fr. Paul Maphroi
Myanmar (Burma)
Dear Patti,

This is a very good piece of news from here in the diocese of Yei in South Sudan!

Thank you so much for all the you do, and we are seeing many good things unfolding!

This is so important that it has been widely publicized!

On his last visit, Emma visited with us to a witch doctor, who scorned him for telling him about leaving the practice and turn to God, through the intercession of the little saint.

From then, he has been rigidly expressing himself as a non-touchable, claiming that he gets his riches from the practice.

Just yesterday, people were surprised when they so a man who has been boasting, setting his shrine ablaze?????? The population had thought that he had run mad! Finally he came out to explain after the whole grass thatched compound had been razed down!

His explanation was, he had for several days dreamt of the slander sized man directing him to a young beautiful girl for his intercession to God. We are surprised, Claudio wants now to return to the church and we have told him to go to the bishop!

This is so good,

Where is Emma, is he still in Rwanda?

We want him back

Valeriano
Sudan
Fond Remembrance from Fr. Tajo, Rome.

Today I have received the parcel send from your office, enclosed with leaflets and Mass Cards. I humbly wish to acknowledge the receipt the check of $480.00 as Mass Stipends for 16 Triduum Mass. I have already started to celebrate the Mass for the *ad intentionem dantis*. I will send the Mass cards back to the office, as I finish the celebration of the Mass for the assigned intentions. This stipend is a real help and it will facilitate my ecclesiastical study in Rome.

I am highly indebted to you for your kind help in my dire need and I shall be always obliged to you and to the association. I thank you very sincerely for what you have been to me. I promise my dedication and assure my prayers for the Association.

AVE MARIA

Yours Fraternally in Jesus and Mary,
Fr. Tajo Leyon
Instituto degli Oblati di Maria Vergine
Roma
Italia

Dear Patti,

I see sign of new hope in message yours, what ask you question if Rwanda peacekeeper officer is to help reach medals on us. The answer is big, yes! He is ready to help now as we face more discredit by international scenario and we have only hope in you our Mothers! Please mother send us about 20,000 medals and some oils, the last we got are over and proved working good! We rely on you, Emma knows how to reach us, and he is good man and planner!

We wait you, save more 20,000 souls from Islamists!

Thank you, Holy Mother of God and all of us.

Angela
Congo
Dear Patti,

Thanks a million for the great box which arrived, indeed we grateful and very much obliged to you and for all its contents. How is Lisa? I continue to pray for her.

With profound gratitude to you and a happy Pentecost. You are in my daily prayers.

Peace.

Father Ayeah
Cameroon
Africa

Dear Sr. Patti,

Thank You for your appreciation and generosity.

Somehow I fell in love with Living Rosary Mission when I was 16-the year I joined the SJ and Mother Mary has bestowed on me bountiful graces and saved me from all the ill health and dangers of death therefore I feel so close to her and want to further the mission of Universal Living Rosary Association of Saint Philomena (ULRA) in spite of my studies which is very hectic.

Since Philippines is made up of thousands of islands (There are 7,107 islands, of which about 4,000 are inhabited.) some tribes are very primitive still and hardly any connection with the other islands. Since it's the only Catholic country I thought I would help them. I will be leaving to Naga 2 days by boat. I thought if you could send some rosaries that would be fine. I thought it would be better if you send it directly to Naga and I distribute to the tribals after the initiation and few instructive sessions. For they prohibit heavy luggage.

Fr. Arun Kumar Sj
Naga City
Philippines

P.S. I hope the bishops also take initiative in promoting this devotion
Praying for you and your team
Love and prayers
Arun

Dear Patti

Just a note to inform you that I fetched ULR box from the post office earlier today. I'm also very happy to report that I received everything you sent this time round. Thanks be to Jesus, Our dear Mother Mary and St Philomena! Many thanks to you and our benefactors who made this gift possible in such tough financial times].They are all in our prayers.

God bless you all
Regards
Sybil Adams
Cape Town
South Africa
Dear Mrs. Melvin

Thanks for the wire, the airlift and the pills. I have started taking pills one daily and feel better.

I was away from home; I went to Wazirabad, then to Sargodha, Rawalpindi and Hasan Abdal. I returned today in the morning and today at night I am leaving for Bahawalpur; from there I will go to Karachi.

I am sending you two packets also. One contains some lists and the other one containing newsletters.

Please send me a box of Rosaries. The Rosaries I had, I am taking with me. If possible please send me the book "Eucharistic Miracles".

Yours in Christ and Holy Mother,

Afzaal Anwar Khokhar
Pakistan

Dear Patti,

Greetings! The book I have written has just been given Imprimatur by the Archbishop of Kampala Archdiocese His Grace Dr. Cyprian Kizito Lwanga. The title is St. Philomena Shines in The Heart of Africa. The photo of St. Philomena is on the cover in the map of Africa. I want to include your photo with your husband and your staff among the photos I am inserting in the middle of the book. I want to put also the photo of Pauline Jaricot. The book is ready for printing and many people have been waiting for it so you send the photos on the net to avoid delay by post. I have asked you because I do not have any of your photos with me. If you recommend any other photo to be included please send it. Thanks you for your cooperation. The priests are very happy here for my talent of writing and I have submitted another book entitled Tricks of Satan. They say this will help people to watch out for the tricks of Satan.

The Parish priest Fr. Joseph Sebayiga at our center has rubbished the propaganda about a snake on our Rosaries and says he is going to ask the Archbishop to write a letter refuting that allegation. I have handed to him the letter you sent, so he will handle the matter without me running up and down. He said the luminous Rosaries are very good because they do not break easily like the chain ones He said even if the snake was on the them it would have no effect. I am so happy about his stance. Please continue sending the Rosaries without any fear. I have no oils Scapulars and cords. We have won the devil!!

Happy month of Mother Mary. We shall go for the triumph!

Maj. Godfrey Wababa
Uganda
East Africa
Dear Patti:

I am very grateful to receive some materials from your Association which are very helpful to me and to our archdiocese. I am one with you in prayer that love and peace may reign in our world. May every family, through the example of Saint Philomena, cultivate a great love and devotion to the Eucharist and the Blessed Mother.

Sincerely in Christ,

Onesimo C. Gordoncillo, D.D.
Archbishop of Capiz
Chancery Office
Roxas City
Philippines

Click here to see a scan of the letter>>>

Patti ,

At last, this is the parcel; and signing it for you to be at peace like me.

Hurray!

Ave Maria & St. Philomena.

Amen

Sr Ng Irenata Biyela,
Uniiversity Of Zululand
South Africa
Dear Patti,

Thank you very much for the airlift box I just received last Saturday, May 9th,2009.Most grateful and happy am I for the two green chasubles and stoles, altar cloth, crucifixes, very beautiful various Rosaries, books, pictures, etc etc. May God bless you always! Of late I sent you a number of new lists. Last Sunday, I took photos, at Mass, showing how I distributed the contents of the box. I will reserve some for some of those distant members. Keep good and good bye! Ave Maria!

Rev. Fr Remigius Lazarus KASAWA, DP
St Peter Claver Catholic Parish
Malawi
C. Africa
Dear patti,

I wonder if you already have received the Jordan River water. Please, let me know when you received it.

Tomorrow, May 13, I will be celebrating the Holy Mass at the Lord's Tomb for the intentions of the ULR members and officers,

Prayerful best wishes,

Fr. Angelo Ison, OFM
Jerusalem

Dear Patti,

Thanks to St Philomena, I got that box and the second one followed immediately...Thank you very much...

About miracles, there are quite a few here and most are not even reported to me immediately....Like this one......Baby girl was born really shapeless, with a back deformity and even contracted T.B., which Drs cured away. Christine, the mother had given up hope of the baby ever walking or even surviving.....St Philomena has made the girl walk steadily and is fairly O.K.

Another one....Baby boy grew up with abnormally frequent epileptic attacks. Parents went from doctor to doctor, but to no avail.....But just one small tube of The Potent St Philomena Holy Oil applied all over the body including the tongue.......The boy no longer gets the attacks and goes to school very confidently

A protestant housewife was always worrying about getting pregnant and many years of her marriage.....She got attracted to St Philomena prayer group which always used The St Philomena Holy Oil to smear on those who had any complaint. She begged our Promoter to smear her too.........A few months later she returned very pregnant and asking to join The Catholic Church........not only herself, she brought 9 others. She is helping us to get others to the faith.

And lastly one catholic is a frequent goer of morning Masses after reading the book THE WONDERS OF THE MASS. May The Little Virgin Martyr continue to shower Her blessings on us ALL...

Lawrence Esiangu
Living Rosary Centre
Kumi Uganda
East Africa
Dear Patti Melvin,

May I greet you in the name of our Lord Jesus Christ, and say well done for all that you are doing to save the world. If fact, I have no body with whom I can compare you! May Our Risen Lord Jesus Christ grant you all of what you need and wish to happen. I am real praying very much for you.

I hope you are fine. I am fine too. My intention in this letter is to thank you very much for the Sacramentals you are always sending for me. Thank you very much. In fact, everyone who has ever received them in our areas, expresses his/hers gratitude and heartfelt thanks to you. For instance, here at the Seminary, I have been giving some books I receive from you to my fellow seminarians, especially that book of St. John Neumann's Catechism. They appreciate very much. Not only this but also rosaries, medals scapulars and other writings.

I deed, your work is very marvelous! I have distributed everything and I have finished them. As I said earlier in my e-mail I wrote to you, I now deal with primary school pupils with the help of the school teachers in this area. So I have no more rosaries but I still have many people in need. I for instance distributed what I had, to only two classes out of seven of them. The pupils are many enough! So that's why I requested more of them.

Apart from this, I first thank you for the books I am receiving always from you. Much of them are very attractive. I kindly ask for some more copies of the following books: A small booklet about who is a Priest, St. Neumann's Catechism, and Mary's Miraculous Medal, The Blessing of St. Joseph, some more stickers of St. Philomena and Our Mother Mary and some more wall pictures of St. Philomena and Mary. In fact I am sorry for ordering many things but I have n way out for they are highly in need by our members up here.

It's my expectation Dear mother that you will grant my request. I wish you all the best in all your doings.

Yours in Christ,

Frt. Denis Rwamugira.

Ave Maria!

Mother Patti,

We just had another super typhoon name EMONG. Just like last year many families again are victims of nature. We need the Living Rosary they said. Coz all the people who put Holy Oil of St. Philomena in their windows, walls and doors are safe!!!!

Thank you St. Philomena another miracle from God and the Blessed mother!

God Bless you all and all the benefactors!

Servant of the Immaculata,

Jerome Vidal Dizon
Dagupan City
Philippines
My dear Patti,

Please allow me to share a beautiful and encouraging story of our Mother's love for souls through her scapular promise.

Approximately two weeks ago my sister who lives in VA called me to tell me that a dear friend's mother was on her death bed. I haven't lived in VA for 20 years so had limited but consistent contact with this friend. As soon as I got off the phone my son and I prayed the prayer for the conversion of sinners taught by the guardian angel of Portugal to the Fatima children for this soul.

Later in the day the thought occurred to me to call my sister and ask her to take a scapular to my friend for her mother. The family is protestant and my sister seemed hesitant. We offered our rosaries and other devotions for this soul also invoking St. Simon Stock.

My sister delivered the scapular and was told by my friend that she would indeed put it on her mother.

This woman died several days later. We continued to pray. I was unable to contact my friend through the numbers I had. I wrote her a letter telling her we were praying for her mother and all her family.

A few days after the woman's death, my sister was cleaning in a home of another friend of this family. The woman told my sister, "You know, Lois' mother died wearing that scapular you gave her."

I can't tell you how happy we were to hear these words. We had made a point of not asking any questions of anyone and letting our dear Mother handle this situation in the way only she can.

Our Lady of Mount Carmel answered our prayers in her salutary and consoling way. May she be forever praised!

May all have confidence in her loving heart.

Your devoted and grateful member,
Beth Sentman
United States
Dear Patti,

I have already received the package on Saturday 09th May 2009, and I would like to thank you for the lovely Rosaries, Scapulars, Medals & the Booklets. I just love the Book (Fatima Is our Promise & Our Hope), I went through and read the Sacrifice of Daily Duty and I've learnt that this rules are very important in our day to day lives. I wanna thank you once again.

I will deliver the package to the Prisoners on Sunday 24th May 09, and can't wait for the next package.


Thank You In Jesus Name.


Darushiela Williams
Port Moresby
Papua New Guinea

Dear Patti Melvin (Mrs.)

Peace and love of our Mother Mary in this Holy Month of Rosary be with you. I am happy to inform you that I have received with great JOY a big box-last Wednesday on 7th/April/2009 from your association. I couldn't reply promptly on its reception because of the weekly examinations in our university.

Thank you ever so much for your kindness and heartfelt love for the Universal Living Rosary Association of St. Philomena. Below is the summary of the items received:
15 color prints
6 cord & oil packets
30 newsletters
46 rosaries &leaflets/medals/scapulars.

I will begin St. Philomena movement in our university, convent of the sisters of Rosary, students of St. Josef secondary school and in our parish here in Dar es Salaam.

I will send you back the photos taken through postage as I will be distributing all what you brought to the new members and at the same time I will ask them to write their names on the other sheet papers brought to me.

It's a process and I believe all who will receive these items will become fully ambassadors of St. Philomena to their places of living.

Lastly, I will get in touch with you as the initiation of this movement and its growth will take its shape in Dar es Salaam.

I wish you St. Philomena's blessings in your ministry to make her known all over the world.

Let's keep each other in prayers.

With gratefully heart through St. Philomena,

Rev. Fr. Henry Rimisho AJ
Tanzania

Dear Mrs. Patti

I would like to share with you with the additional pictures of the Living Rosary mission in Ukraine. I send you the pictures of the retreat where I enrolled almost 60 new members. The prayer group from the parish in Lviv asked me to come to their parish and launch the Living Rosary at this parish. They got to know about the Living Rosary by reading our newspaper and they were willing to join the Living Rosary. Also it is shame but I forgot to send you the three editions of our newspapers. I sent them today and you will get the samples of our newspapers within a week. I feel very terribly about my fault.

Father Ivan Kolodiy
Ukraine
http://www.livingRosary.org.ua

Dear Living Rosary Assc,

Hello and thank you for continuing in spreading Our Lady's hopes for total consecration of Her Immaculate Heart. Such a wonderful mandate you have been entrusted with. I am eternally grateful for having been led to your association.

I have just sent my donation for the next two years and was hoping to receive some scapulars for my family. We are five in total and your brown scapulars are very durable compared to ones available elsewhere.

May God continue to bless all your efforts and bring more souls to the knowledge of the numerous graces available through devotion to Our Lady and St Philomena,

Gratefully,

Rachel Walters
Canada
The retreat for the children of the school was organized at 30. 04. 2009 in the city Pustomyty. Many teachers of Living Rosary invited father Ivan Kolodiy and the living Rosary support team to organize the retreat for children.

Many of the children received the holy pictures of saint Philomena and newspapers of Voice of Living Rosary

Father Ivan Kolodiy
Ukraine
Europe
http://www.livingRosary.org.ua
Dearest Mamma Patti

Thank you so much, I collected a box full of scapulars, this is wonderful, we need it here so much, and we need also more boxes of scapulars, because many priests and promoters wait the arriving of the scapulars ,many hundreds of new members wait their turn to have the scapular. I keep you always in my poor prayers; I pray that in this month of Mary, I could have the camera with me. Ave Maria plena di gratia.

Your little son, slave of the Holy Rosary

John Kayrouz
Lebanon
Ave Maria!

Mother Patti,

The coming of the beautiful month of our dearly mother means to pray more and to live the message of Fatima.

I begun it to the children, giving them the catechism booklet to read and use during their catechism classes offered by our parish this month for these little ones, and teach them to pray the Holy Rosary and enrolled them. The decade prayer is a good start to pray the Rosary and contemplate on their mystery. I will visit all nearby parishes to offer the same to the young and old. The decade prayer is a crown of roses offered to the lady this floral month.To be able to visit this parishes and my leaders please help us financially.MM are also given to the children.

All for God!

Jerome Vidal Dizon
Dagupan City
Philippines

Dear Mother Patti,

Please, read this letter sent by Rev. Sister Marylaura from Liberia. Possible= trip can be made there in July or August if you find it necessary.


Mon, I think the country needs help after their many years of civil war.

Ave Maria!

Paul E. Ekpe

Hello Brother Paul,

It was good talking to you by phone the other day. How are you doing? I pray that all is well.

I doubt whether the Apostolic Administrator or any prelate from Liberia will be going to Cameroon for the Pope's visit.

Shortly after speaking to you, I called the President of the Catholic bishops Conference of Liberia, Bishop Lewis Zeigler of the Diocese of Gbarnga. He is very open to the idea and looks forward to having you visit all three dioceses to promote recitation of the Holy Rosary.

Please give me the details of the one to contact in the States to facilitate your visit to Liberia.

I look forward to hearing from you soon.
God bless
Sister Mary Laurene, OSF

Dear Patti,

I have them written and will send them by mail, hope that won't take long before you get them. Also are some completed forms, but if you think that it will late, let me know so I can get them typed immediately. I got a call today to come for my box from UPS and I will be there tomorrow.

I was able to collect the two other boxes at the post office upon completion of the payment for the box and other charges, but this time, the charges were reduced significantly. Now am going to have myself a lot of materials to work with and will only need some much later this year, thanks to your efforts.

Yours in Christ

Michael
Abuja
Nigeria
Yaounde-Cameroon
Africa
Dear Mother Patti,

Please, could you kindly include our school projects! The Archdiocesan Secretariat of Education would be delighted to see the images of the school project in our newsletter. I hope you still have the images that I sent previously. The Secretariat has just renewed our Authorization Letter. I will include a copy in the lists that I will send soon.

What is worth mentioning in the school project is the excitement of the pupils and teachers. They said that the devotion is very interesting and exciting because of its simplicity. According to the report, many families had been able to rediscover the importance of family prayers thanks to the Living Rosary Association of Saint Philomena. This is because decade by decade encourages each member of the family to recite his or her decade before or after the family prayers without necessarily finishing the entire 20 Mysteries of the Rosary. Again, for the fact that one can say the prayer at any time of the day and any where attracts attention of both the children and adults alike. The Archdiocese in getting this report encourages and mandates us to extend the Apostolate even to Catholic Colleges.

More soothe few Crosses we gave out to some schools where there was no Crucifix in the class-room motivated the church authority here to confine this responsibility to us (the Living Rosary of St. Philomena). In view of these contributions by the Living Rosary. This also encouraged the Church hierarchy to designate a Spiritual Adviser to work with us. Fr. Basil, a Parish Priest of St. Peter's Parish Nkolmenyang Yaounde, in his first contact with the members of the association expressed his determination to work with us. He did not hide his feelings by telling members that if they continue with this spirit of commitment that reign in among them now, in less than no time the Living Rosary will be felt and lived by every Catholic and every Christian in the country.

Also, the Carmelite fathers started a two Months training in my Parish last Saturday May 2,2009,for those our members who would like be invested with the Scapular. About 20 members attended the first training. Those who completed the training will be invested with the Scapular on the 16th or 18th of July to commemorate the Feast of Our Lady of Mt. Carmel at one of the Carmelite Parishes here in Yaounde.

Ave Maria!

Paul E. Ekpe
Yaounde-Cameroon
Africa

Dear Patti,

Praise God! St. Philomena really working wonderfully in our place. Recently Rev. Fr. John Lagdamen rushed to the hospital for a mother who delivered a blue baby. The baby looked dead already. Rev. Fr. Lagdamen baptized the baby but the parents could not give any name of the baby so Rev Fr. Lagdamen said, let's name her "Philomena" as her baptismal name.

After the baptism the baby gave a gestured that she was alive. Later the baby cried again, again and again. Everybody in the family was happy, rejoiced for the baby got alived. Alleluiah! Alleluia! Praise God! Praise St. Philomena! You're a wonderful saint!

Carmelita G. Baric
San Carlos City
Philippines
Dear Patti,

Thanks to St. Philomena! Go for the triumph of the Immaculate Heart of Mary. The celebration of the first year anniversary in the launching of St. Philomena and the Living Rosary was done simple and successful. The children opened the May Flower devotion with a "Living Rosary".

The altar was simple where the Blessed Virgin Mary stands tall with St. Philomena beside it. The activity ended with a concelebrated mass lead by Rev. Fr. John Nograles at 5:15pm mass last May 1, 2009. Pictures will soon to be forwarded.

Carmelita G. Baric
Occidental
Philippines
John Kayrouz
Lebanon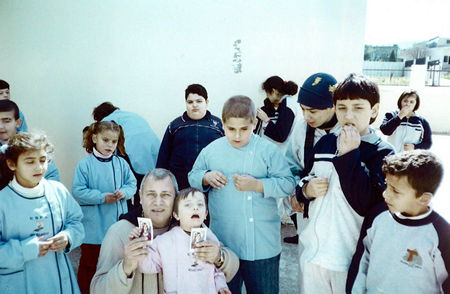 Dear Patti,

My greetings from Monterrey, NL Mexico. Please pray for us, we are in very bad situation; there are 1900 cases of swine flu in the entire country. Everything is closed and everywhere panic reigns. Theaters, restaurants, schools, churches, everything is close.

This illness is driving the faith away from people and even from the priests – there is no mass in any church and in the ones where Jesus in the Eucharist is present he is treated as if he were anything, the faithful are taking holy communion in the hand the priests put out the ciborium with the consecrated hosts and everybody takes it with their own hand; it is something painful and sad to see the way the people treat the Eucharist, as if it were one more kind of food. Help us Patti! The contagion is around the corner, many people are sick, the hospitals are full of people with the symptoms of the swine flu; nobody wants to leave their houses; the jobs are closed, there is no gas; everything is at the brink of bankruptcy.

Patti the people suffer very much I beg you for prayers in this desperate moment. I don't have a job, the theater where I worked was closed; everything is bad and they say that in Mexico City the halt of everything will last 4o days to help us.

Could you help us to evangelize? As soon as the post office opens I will send you the names of the new enrolments.

We are still waiting for the Sacramentals, now more than ever we need them for this time of calamity everything that you are able to send but most of all your prayers.

Thank you very much and may our lord bless you and be your reward. I await your response,

Ramon Peña
Monterrey
MÉxico

Dear and Loving Sr. Patti,

For Fr. Andrew Uthayadas, it is difficult to send Rosaries to displace and refugees in concentration camps in the worn area Jaffna and it is surroundings. Sisters of Holy Family of Bourdex (among them one is Sr. Francesca a Promoter) want me to donate as many Rosaries as possible to distribute to the affected lots. Army is not in the way of distribution of Rosaries.

I am packing a box of about more than 500 Rosaries to be sent through Sisters travelling to Colombo, Srilanka.

You, my sister can airlift Rosaries if possible to us.

With love and prayers
Kjroche
Srilanka